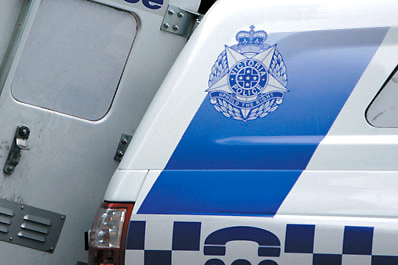 By James Taylor
Casey council drama: Where the push came from.
Casey council drama: The toll.
Casey council drama: What the councillors said.
THERE were chaotic scenes at last night's Casey council meeting as a motion to sack chief executive officer Mike Tyler was defeated.
Former councillor Paul Richardson was wrestled to the ground by police and marched out in handcuffs after he protestedfrom the gallery about bad language.
Cr Bob Halsall had used an expletive in an accusation against Cr Kevin Bradford. This sparked outrage from the public gallery and forced mayor Sam Aziz to suspend the meeting for 30 minutes.
Cr Aziz called the police when Mr Richardson refused his order to leave the chamber at 7.30pm.
Four police arrived 20 minutes later but could not convince Mr Richardson to leave and forcibly removed him at 8pm.
Cr Bradford moved the notice of motion to immediately terminate Mr Tyler's contract over a civil lawsuit brought against him by a former council staffer in 2010.
Cr Bradford said councillors had been told very little about the lawsuit when it was going on and it had been handled in ''a cloak of secrecy''.
''I'm protesting the totally inappropriate and questionable manner in which this has been handled.
''Due to the actions of the CEO, he has made his position untenable.''
Cr Aziz welcomed a resolution for a full investigation of the council's handling of the lawsuit by the state auditor-general and the Ombudsman.
''I don't think the council has anything to hide.''
Cr Bradford's motion was lost, six votes to five.
Cr Halsall used the expletive in debate about an earlier motion to have Cr Bradford investigated by the Municipal Association of Victoria's councillor conduct panel.
Cr Halsall later apologised for his language, which was met with calls of ''too late!'' from the gallery and led to an elderly man alse being escorted out of the chamber by police.
Cr Halsall's motion was passed, six votes to five.