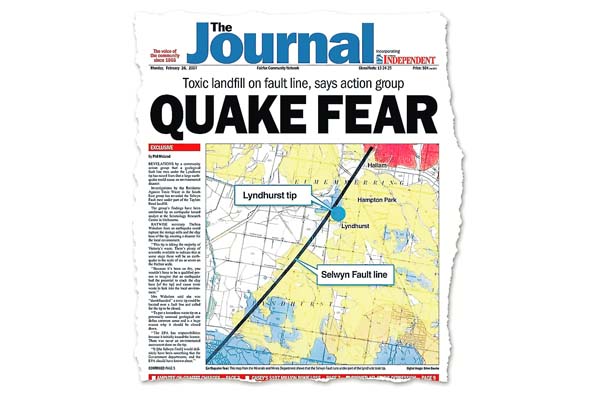 By CAMERON LUCADOU-WELLS
WHAT DO YOU THINK? SCROLL TO BELOW THIS STORY TO POST A COMMENT.
TIP operator SITA claims Lyndhurst's proposed toxic waste landfill site can withstand earthquakes despite being near an active fault line.
The site is in the vicinity of the Selwyn fault line, which runs through Cape Shanck, along parts of the Mornington Peninsula coastline, Frankston and towards the foothills of the Dandenongs.
Earthquake experts are uncertain where the fault line definitively lies in Dandenong's lowlands but predict it could cause an earthquake up to 7-magnitude, far stronger than the 5.4-magnitude quake last Tuesday.
SITA says the fault line is not under the landfill site, which has been approved by the Environment Protection Authority and the state government to receive grade A-toxic waste.
EPA guidelines state that landfills should not be built within 100 metres of a fault line.
SITA strategy general manager Simon Lee said the fault line was west of the site but declined to respond when asked exactly how close.
"As a landfill liner is not a rigid structure, it will flex with the earth during an earthquake," he said. "In addition, the clay component of the landfill is self-healing while the level of the leachate within the site is maintained below the regional groundwater.
"Therefore, if there was a failure, the result would be that groundwater would flow in slowly and we would extract more leachate and dispose of it to sewer."
Saman De Silva, a senior lecturer at RMIT University's school of civil, environmental and chemical engineering, said there needed to be better assessments of earthquake risk, particularly for landfills.
He said landfills were sensitive to ground movements like earthquakes, being "soft" and like a "bowl of jelly". "If there is knowledge of an active fault line, a landfill shouldn't be put there."
Mike Sandiford, chair of geology at University of Melbourne, said the fault line was capable of sizeable quakes between 6 and 7 in magnitude.
"We don't know if there are many strands or one fault line [around Dandenong]. It's something that's got to be identified by doing a geological imaging."
An EPA spokesman said geology professors at the University of Melbourne advised that the fault line had "very low activity levels" and it would take an earthquake with a "very high" magnitude to rupture a cell liner at the landfill.
Greater Dandenong Council's city planning director Jody Bosman said location and risk assessment of fault lines was not a specific part of the council's planning criteria. "At this point in time, the council has no reason to believe the Selwyn fault line presents any risk to development in the area."
For all the latest breaking news, visit greaterdandenongweekly.com.au. Follow the Greater Dandenong Weekly on Twitter @DandenongWeekly.