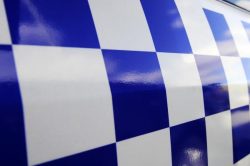 Police say a hoon driver performed a burnout in front of an unmarked police car in Noble Park.
The police vehicle was at a red light on Princes Highway at the junction with Corrigan Road about 9.45pm on Friday 17 March.
A 39-year-old man allegedly sped off from the intersection under heavy acceleration but was intercepted shortly after.
Police performed a preliminary breath test on the driver and a subsequent evidentiary breath test.
It's alleged the man blew 0.187 while on a zero alcohol limit licence condition.
Police impounded the driver's Ford sedan for 30 days and he will have to pay $961 in towing and storage costs to get it back.
He was bailed to appear at Dandenong Magistrates' Court on Thursday 20 April charged with drink driving, driving in a dangerous manner, careless driving, driving under the influence, assaulting police and resisting police.