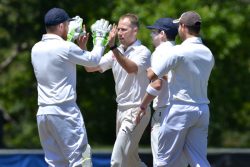 DANDENONG DISTRICT CRICKET ASSOCIATION
TURF 2 SEASON PREVIEW – 2017/18
BEACONSFIELD
Coach: Matt Golding
Captain: Matt Golding
Last Season: Fourth
Most Runs: Matt Golding, 12 matches, 466 runs at 33.29
Most Wickets: Dylan Freitag, 12 matches, 36 wickets at 10.06
INS: Josh Mailling (Overseas), Will Christophers (Overseas), Ruwantha Fernandopulle (Donvale), Michael Dunstan (Narre North), Aloka Pathiranalage (Coomoora)
OUTS: Dylan Freitag (Moved Interstate), Michael Mitchell (Overseas), Shaun Van Dam (Work Commitments)
First Match: vs Coomoora, 7 October, Coomoora Reserve
How far can they go?
The Tigers will be aiming high in 2017/18 and simply want to be playing finals. It's going to be tough to cover the loss of Dylan Freitag, who has moved interstate for work, but the inclusion of overseas imports Josh Mailling and Will Christophers will add some quality. The main list has been retained and Matt Golding remains and will be hoping for a big season with the bat as he captain-coaches them in what will be a highly competitive Turf 2 season.
COOMOORA
Coach: No coach
Captain: Lance Baptist
Last Season: Fifth
Most Runs: Luke Vincent, 9 matches, 347 runs at 31.55
Most Wickets: Lahiru Senarathna, 10 matches, 29 wickets at 16.52
INS: Malan Madusanka (McKinnon)
OUTS: Aloka Pathiranalage (Beaconsfield)
First Match: vs Beaconsfield, 7 October, Coomoora Reserve
How far can they go?
After narrowly missing out on a finals spot in 2016/17, nothing short of a finals berth is on the agenda for Coomoora. The club has brought Malan Madusanka over from McKinnon, who will provide some great coverage in the middle overs with his left-arm tweakers. They have managed to retain virtually all of their players, and will focus on developing its players within the club and hopefully having a strong season across all grades.
FOUNTAIN GATE
Coach: Dave Lucas
Captain: Dave Lucas
Last Season: Eleventh
Most Runs: Rodni Kumara, 10 matches, 480 runs at 34.29
Most Wickets: Rodni Kumara, 10 matches, 38 wickets at 14.63
INS: Nil
OUTS: John Mirranay (Narre South)
First Match: vs Silverton, 7 October, Fotheringham Reserve
How far can they go?
The Gaters, rather than stockpile talent from other clubs, are focusing on rewarding a strong contingent of junior players with senior opportunities. Last year gave the club the perfect opportunity to blood some youngsters, so the club is expecting more improvement across the board. Having star all-rounder Rodni Kumara around for another season means there is a genuine gun for the young players to continue to learn off.
KEYSBOROUGH
Coach: Stephen Hennigan
Captain: Jacob Hennigan
Last Season: Sixth
Most Runs: Ruwantha Kellepotha, 11 matches, 371 runs at 33.73
Most Wickets: Ruwantha Kellepotha, 11 matches, 37 wickets at 12.73
INS: Hennige Fernando, Yohan Arumadra
OUTS: Amila Kangaraarachchi (Parkmore Pirates), Ruwantha Kellepotha (St Mary's), Shakel Ahmad, Gayan De Silva
First Match: vs Lynbrook, 7 October, Marriott Waters Reserve
How far can they go?
After finishing sixth last season, Keysborough will be hoping to break back into the finals mix with a strong season. But some tough outs – headed by star all-rounder Ruwantha Kellepotha and perennial wicket-takers in Gayan De Silva and Shakeel Ahmad mean they are a bit low on bowling depth. There is some handy youth at the club but a potentially tough season awaits.
LYNBROOK
Coach: Anurudda Fonseka
Captain: Jay Walia
Last Season: Runners-up in Turf 3
Most Runs: Jay Walia, 13 matches, 548 runs at 39.14
Most Wickets: Jesse Walia, 13 matches, 46 wickets at 10.52
INS: Dinesh Vensilaus (Lyndale)
OUTS: Unknown
First Match:  vs Keysborough, 7 October, Marriott Waters Reserve
How far can they go?
The Lakers are steadily building their way up the respective Turf grades and get the chance to show what they can do in what will be a tough Turf 2 competition in 2017/18. After finishing as runners-up in Turf 3 last season, the Lakers can certainly match it some of the middle-rung sides this season and will be hoping to push its way near or into finals.
LYNDALE
Coach: Rory Ingram
Captain: Rory Ingram
Last Season: Tenth
Most Runs: Farazur Rahman, 11 matches, 364 runs at 33.09
Most Wickets: Dilhendra Munaweera, 11 matches, 32 wickets at 15.72
INS: Jack Larkin (Overseas)
OUTS: Dinesh Kurukulasooriya (Silverton), Malinda Rathnayake (Silverton), Dinesh Vensilaus (Lynbrook), Dilhendra Munaweera (Overseas)
First Match: vs Narre South, 7 October, Barry Powell Reserve
How far can they go?
Lyndale are going down a more youthful path in 2017/18, and will be without four of their best Turf 2 players this season.  It's likely to cause some short-term pain, with the club committing to playing youngsters from the ages of 17-22. The club is also working through the process of electing a coach and captain for the season. Lyndale are hoping it's younger players can help steer them on the right path.
NARRE SOUTH
Coach: Scott Phillips
Captain: Scott Phillips
Last Season: Third
Most Runs: Scott Phillips, 12 matches, 600 runs at 54.55
Most Wickets: Scott Phillips, 12 matches, 53 wickets at 11.04
INS: Ashan Wijayakumara (Casey South-Melbourne), John Mirranay (Fountain Gate), Manjula Guruge (Overseas), Mitch Hovey (Cranbourne)
OUTS: Jawed Hussaini (Cranbourne), Brendan Wilson (Retired)
First Match: vs Lyndale, 7 October, Barry Powell Reserve
How far can they go?
After finishing the 2016/17 home-and-away season 17 points clear of the next best side, the Lions fell in disappointing fashion to eventual runners-ups in the Parkmore Pirates in the semi-final. The club will be desperate to get itself in that position once again and go one step further. With champion all-rounder Scott Phillips going around again, as well as the inclusion of top-order batsman Ashan Wijayakumara and UAE international Manjula Guruge, the Lions will be there abouts once again.
NARRE NORTH
Coach: Matt Brooks
Captain: Matt Brooks
Last Season: Seventh
Most Runs: Kyle Hardy, 10 matches, 339 runs at 33.90
Most Wickets: Ryan Hendy, 6 matches, 24 wickets at 12.21
INS: Josh Henry (FTGCA)
OUTS: Ben Doran (FTGCA), Michael Dunstan (Beaconsfield), Lochana Premarathna (Silverton)
First Match: vs Parkfield, 7 October, Narre Warren North Reserve
How far can they go?
Narre North has had a fairly settled off-season, with very little player movement making for a settled 1st XI. A rise back into finals is a possibility, but all the sides that finished above them have also shored up their respective lists. Josh Henry is a handy addition to the side. Needs to have a big start to the season.
PARKFIELD
Coach: Matthew Aslett
Captain: Shane Bell
Last Season: Relegated from Turf 1
Most Runs: Manisha Dabarera, 11 matches, 361 runs at 32.82
Most Wickets: Matthew Aslett, 11 matches, 24 wickets at 19.54
INS: Anthony Stubbs, Muj Timori, Stevie Cannon, Nico Jeffery (all from Kingston Hawthorn), Emmal Mayadunna (Frankston), Rosh Livera (Tasmania)
OUTS: Hemantha Alles (Springvale)
First Match: vs Narre North, 7 October, Narre Warren North Reserve
How far can they go?
Perhaps a little unlucky to be relegated, but nonetheless the Bears make their way to Turf 2, and look quite formidable across the board. Improvement across all grades is the main expectation for the club this season, and are excited to see what the women's side can produce. But in terms of the Turf 2 season, there is enough quality within the side to stake a claim to being a genuine premiership fancy.
PARKMORE PIRATES
Coach: Amal Athulathmudali
Captain: Niranjen Kumar
Last Season: Runners-up
Most Runs: Aditya Ganesh, 13 matches, 448 runs at 34.46
Most Wickets: Niranjan Kumar, 13 matches, 47 wickets at 12.32
INS: Amila Kangaraarachchi (Keysborough), Ryan Dawson (Overseas), Ben Harman (Berwick)
OUTS: Shannon Rozario, Matt Perry
First Match: vs St Brigid's/St Louis, 7 October, Wachter Reserve
How far can they go?
The pain of losing last year's Turf 2 grand final must sting for the Pirates, but they will use that as the basis of motivation this season as they look to win the premiership. The core group remains, and the addition of Amila Kangaraarachchi from Keysborough and gun overseas import Ryan Dawson strengthens the side even more.
SILVERTON
Coach: Kevin Baldsing
Captain: Kelvin Baldsing
Last Season: Last
Most Runs: Clinton Gottinger, 9 matches, 418 runs at 32.15
Most Wickets: Kenneth Smart, 10 matches, 25 wickets at 27.08
INS: Luke Rhodes (Oakleigh), Dinesh Kurukulasooriya (Lyndale), Malinda Rathnayake (Lyndale), Shrimantha Fernando, Vidshua Jayasinghe (Moorabbin), Lochana Premarathna (Narre North)
OUTS: Kenneth Smart (Doveton)
First Match: vs Fountain Gate, 7 October, Fotheringham Reserve
How far can they go?
After finishing down the bottom in 2016/17, Silverton is well and truly eyeing its first finals spot since 2013. Identifying some holes in its playing list, the club has brought in plenty of depth and have raided several clubs for talent. They have lost last year's leading wicket-taker in Kenneth Smart, but have added quickie Shrimantha Fernando from Moorabbin to shore up the bowling stocks. Luke Rhodes from Oakleigh adds some Subbies experience, and will also add some quality to the line-up.
ST BRIGID'S/ST LOUIS
Coach: Vab Deshpande
Captain: Jeremy Hayes
Last Season: Eighth
Most Runs: Mark Jamieson, 11 matches, 401 runs at 33.42
Most Wickets: Angus Macquire, 10 matches, 26 wickets at 19.65
INS: Vab Deshpande (Overseas)
OUTS: Stan Tinkler
First Match: vs Parkmore Pirates, 7 October, Wachter Reserve
How far can they go?
With 13 junior teams featuring in the 2017/18 season, there is plenty of talent floating around St Brigid's/St Louis. A quality player back home in India, Vab Deshpande will add plenty of quality in what will be a younger looking, but more energetic 1st XI. Finals can be achieved if all goes right, but getting more games into their youngsters is also a major focus ahead of the season.
PREDICTED LADDER
NARRE SOUTH
PARKMORE PIRATES
PARKFIELD
BEACONSFIELD
NARRE NORTH
COOMOORA
ST BRIGID'S/ST LOUIS
KEYSBOROUGH
LYNRBOOK
SILVERTON
LYNDALE
FOUNTAIN GATE