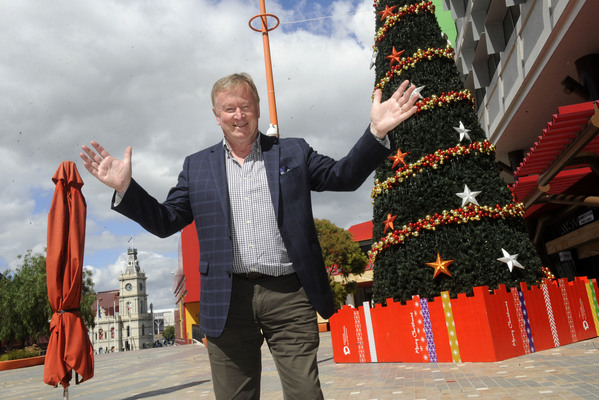 By Cam Lucadou-Wells
There's little need to tune-up Denis Walter's rich baritone voice ahead of the free concert, Carols in Harmony Square.
This Christmas season, the popular radio presenter will be singing at seven carols events including flying up to Coolangatta on the Gold Coast.
Walter's seasoned act has graced the 71-year-old Dandenong carols several times including when it used to be staged in Dandenong Park.
He is also a well-known presence at Myer Music Bowl's festive event on Christmas Eve.
"The thing I love about carols is groups of people, families, older people, younger people just getting into the spirit of the season.
"There's something about Christmas that feels like the community comes together.
"Despite the busyness and rush-around it feels like everyone is on the same page.
"It's the spirit that should be here all year long."
Walter is a fan of Dandenong's bright Christmas decorations including a giant tree and 'Merry Christmas' slogans.
He bemoans the sanitised 'Happy Holidays' messages seen at other times elsewhere.
It was an easy choice for Walter to come back to Dandenong's carols and entertain its vastly diverse audience.
"They are always great events.
"People come here from other countries who truly embrace what we're about
"It's great the City of Greater Dandenong supports carols events. It brings the community together."
It's a "special thing" to perform or host a carols event, Walter says.
The First Noel is his favourite to intone – the well-known carol that builds from a "sensitive start" to "the big finish".
"For people who are lucky enough to host or perform in carols, it's a special thing. It's not something you get used to."
Walter will be joined by The Voice 2016 finalist Adam Ladell, pianist David Cameron, The Kazoos Christmas Show and the Greater Dandenong Band.
There will also be a special guest appearance by Santa.
A Market Village with last-minute gift ideas and a variety of food stalls will be onsite.
Carols in Harmony Square is on Friday 14 December 6.30pm-9.30pm.
Free parking will be available on-street and in the multi-deck car parks after 6pm.
Details: greaterdandenong.com/carols