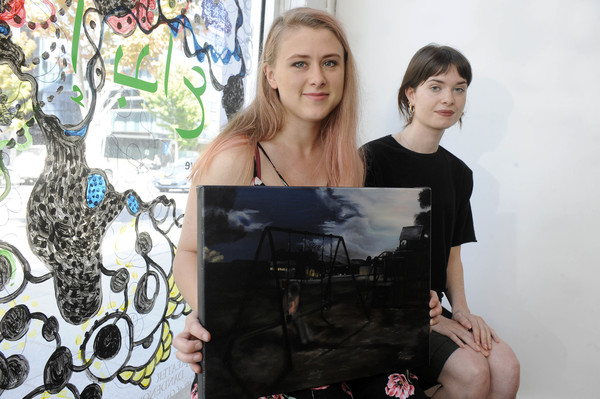 By Cam Lucadou-Wells
There's a broodiness to Letisha Hirniak's street noir paintings.
Set in the night, the eerie urbanscapes are part of the 18th annual She exhibition in Dandenong.
The exhibition, coinciding with International Womens Day, features emerging female artists.
Hirniak feels comfortable in the night, venturing out and taking photos around her local western-suburb streets.
The VCA graduate took close interest to details like road signs and old buildings that "remind me of a simpler time".
"Though you can see more during the day, you find your mind plays tricks on you at night.
"You see things in the dark. It's a place for imagination."
Monash University graduate Brooke Hyrons' ethereal fabric-based installations hark back to times when women artists were confined to domestic crafts.
Hyron's embroidered linens take "non-determinative forms" that "move away" from those earlier times.
"The nineteenth century was a time when women weren't working and were under these domesticated rules."
Other featured artists are Chisholm Institute graduate Karen Crawford, RMIT graduate Madeleine Joy Dawes and Monash University graduate Zee Mazloum.
Greater Dandenong mayor Roz Blades said the exhibition was a "true celebration of emerging female artists and their amazing talent".
"The exhibition coincides with International Women's Day – a day in March where people throughout the world gather to celebrate women and the extraordinary role they play in our history and in our communities.
"She Exhibition is a fantastic way to celebrate women working in the arts space and learn about the men and women who have influenced their work and careers."
She 2019 runs from 7 March to 13 April at Walker Street Gallery and Arts Centre in Dandenong.
It will be officially launched at 2pm, Saturday March 9 with the artists and guest speaker Elizabeth Gower.