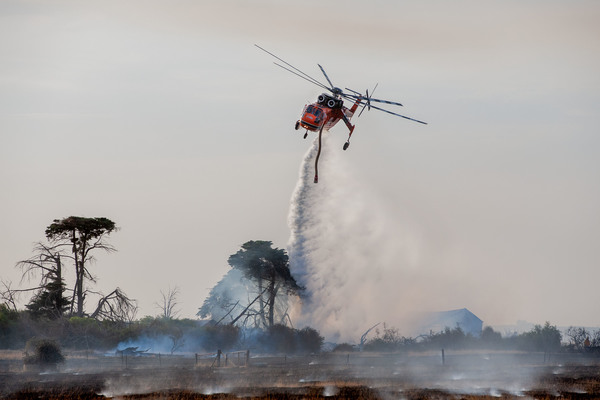 By Cam Lucadou-Wells
A torched stolen car has sparked a fast-moving grass and scrub fire that blazed through a shed and threatened homes and businesses in Bangholme.
The fire spewed plumes of black smoke as it spread west from Harwood Road about 5pm on Monday 4 March.
At the height of the crisis, residents at Willow Lodge retirement village were evacuated as authorities issued an emergency warning for Bangholme, Lyndhurst and Dandenong South about 6pm.
"The smoke was the scariest thing," a Willow Lodge resident said.
"It came right over the village."
Another resident said the first he knew of the fire was when he was evacuated from his unit by police.
"I didn't hear the sirens. I didn't hear a thing."
Residents say they were assembled in open-air evacuation points, including at the lodge's entrance on Frankston-Dandenong Road.
Police say a stolen 2006 Audi sedan was set alight, with the fire spreading to nearby dry grass.
It had been stolen from a residence in Olive Street, Dandenong between 3 and 4 March.
An evacuated resident described the car fire as"a pretty stupid thing to do, especially in this sort of weather".
"You get a lot of hoons in the paddocks."
A witness Matt, who works at Fresh Cafe, said the fire exploded in intensity as it engulfed a farm shed.
"I went out to do a delivery and I saw the smoke out the back.
"The flames then raced across the field.
"Once the shed went up, that's when the flames started to get big."
When the 'Delilah' water-bomber arrived, the fire was quickly under control, he said.
"It's a stupid thing to steal and set fire to a car anyway.
"They were putting a lot of people in danger – how stupid can you get?"
About 24 fire tankers from Dandenong, Carrum Downs, Cranbourne, Narre Warren and Rowville helped quell the fire.
It was declared under control about 6.50pm, and extinguished by 11.30pm.
Fire-danger period restrictions are in place in Greater Dandenong until 1 May. In this period, fires can't be lit in the open without a permit.
Any information on the car theft and fire to Crime Stoppers on 1800 333 000 or crimestoppersvic.com.au