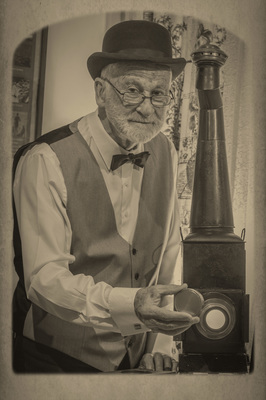 -
A re-enacted Magic Lantern show at Heritage Hill is a rare chance to savour Victorian-era entertainment.
The show's presenter Ian Edwards will light up a large mahogany-cased 'Newton' biunial lantern and present slides from photographers in Australia's Colonial period.
The equipment and slides have been exhibited by three generations of Dr Edwards's family, starting from 1898 with Reverend Percy Edwards in Hastings and then in the 1940s with son Longley.
The Edwards archive combines hand-painted humorous mechanical story-slides and brash Victorian adverts for an authentic look back on the past.
Dr Edwards, a retired archaeologist, will be accompanied in the show by his wife Margery playing music on her German 'Hohner' harmonica.
One important difference from yesteryear is that the lantern is lit by a safe electrical system. In Victorian times, they were typically illuminated by naked flames from oil lamps or acetylene gas.
"The newspaper 'stories of the day' of fires and explosions during early lantern shows, are many and quite dramatic," Dr Edwards said.
Magic lanterns were developed in the 17th century. When combined with the invention of photography, the lanterns became popular entertainment in the Victorian era.
Staging depictions of world events on 12-foot screens, the lanterns are regarded as the forerunner of 'newsreels' and 'movies'.
The free show is on 27 June, 4.30pm at Heritage Hill Museum, 66 McCrae Street, Dandenong.