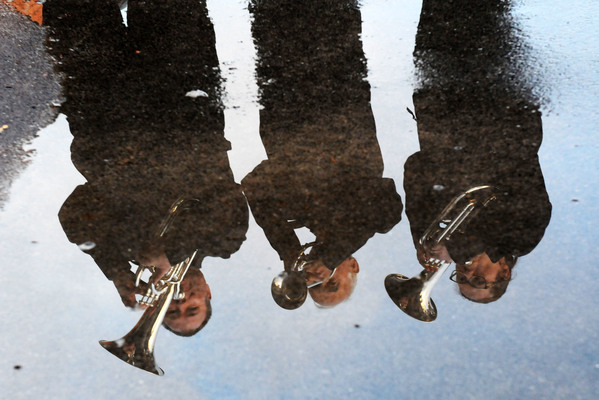 By Cam Lucadou-Wells
Travel to the outer realms with City of Greater Dandenong Band's musical tribute to the 50th anniversary of the Apollo 11 Moon Landing.
The cabaret-style concert One Small Step For Band on 20 July features popular-culture references to Space.
Expect well-known songs such as Moondance, music from film and TV such as Star Wars and Thunderbirds, and others that reference the Moon and planets.
The band will also premiere an original performance of Freefall, composed by Jared McCunnie and commissioned by the band and euphonium player Fletcher Mitchell.
The piece is inspired by the supersonic freefall by skydiver Felix Baumgartner.
Footage of Baumgartner's dramatic attempt will form the backdrop for the dramatic piece.
"It's a very tense piece," tenor horn player Natalie Potenzi says.
"It goes through the perspective of him being ready to jump out and then the feeling of falling through space.
"There's a place in the video in which he loses control, so the music takes in some rises and falls."
Special guests include Voices of Casey Choir and cabaret artist Danielle Matthews.
Performers and audience members are encouraged to dress up in Space themes, with best-dressed prizes on offer.
City of Greater Dandenong Band, with new conductor Jamie Lawson, has about 35 active players aged from 13 to 80-something.
It performs monthly, including at Anzac Day and Christmas carol events.
One Small Step For Band is at Springvale Town Hall, 397 Springvale Road, Springvale on Saturday 20 July from 6.30pm. BYO food and drinks.
Bookings: trybooking.com/book/event?eid=507207 or 0423 555 059