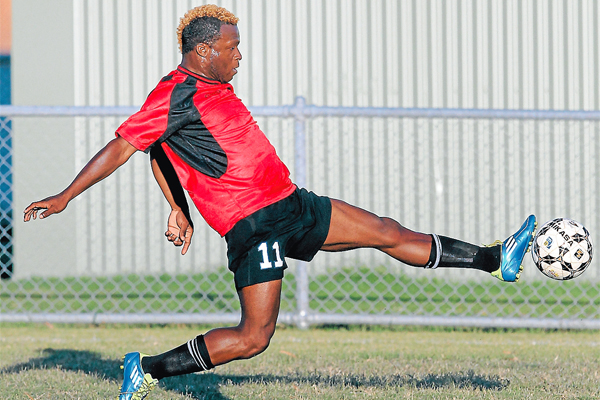 By ROY WARD
NEW Dandenong Thunder striker Nate Foster plans on scoring plenty of goals this Victorian Premier League season, enough to earn him a place in the A-League.
The 22-year-old Canadian left-footer travelled to Australia during summer with the aim of joining a VPL club and putting his talents on show.
Foster said it didn't take long for him to sign on with the Thunder. "I didn't know who I would play for," he said. "A friend of mine knew people at Dandenong and got me a trial. It's great, I love the boys. They have taken good care of me."
Foster has repaid that support in the form of goal scoring across a number of the club's pre-season games.
"If I'm not scoring then I'm not doing my job, no matter how well I play," Foster said. "Scoring goals is all about confidence so it's important that I score regardless of who we are playing."
The speedy striker has already caught the eye of a couple of A-League scouts and he plans on impressing the higher league this season.
"I think I am good enough to play in the A-League next season," he said. "I came here to Australia to play in the A-League and I have set myself the goal of doing that in the next two years max."
Off the field, Foster is living in Doveton and coaching an under-13 side at Doveton Soccer Club.
He said he was enjoying his stay in Melbourne and looked forward to a milder winter than others he experienced in Canada. "I really hope there isn't any snow," he said.
DANDENONG THUNDER
VPL DRAW 2012
March 24: Dandenong Thunder v Southern Stars, George Andrews Reserve 5pm
April 1: Hume City v Dandenong Thunder, John Ilhan Memorial Reserve 3pm
April 14: Moreland Zebras v Dandenong Thunder, Epping Stadium 3pm
May 6: Northcote City v Dandenong Thunder, John Cain Memorial Park 3pm
May 12: Dandenong Thunder v Bentleigh Greens, George Andrews Reserve 7pm
May 20: Heidelberg United v Dandenong Thunder, Olympic Park 3pm
May 26: Dandenong Thunder v South Melbourne, George Andrews Reserve 7pm
June 1: Oakleigh Cannons v Dandenong Thunder, Jack Edwards Reserve 8.30pm
June 16: Dandenong Thunder v Green Gully Cavaliers, George Andrews Reserve 7pm
June 23: Richmond v Dandenong Thunder, Kevin Bartlett Reserve 3pm
June 30: Southern Stars v Dandenong Thunder, Kingston Heath Soccer Complex 8.15pm
July 7: Dandenong Thunder v Hume City, George Andrews Reserve 7pm
July 15: Melbourne Knights v Dandenong Thunder, Knights Stadium 3pm
July 21: Dandenong Thunder v Moreland Zebras, George Andrews Reserve 7pm
July 28: Dandenong Thunder v Northcote City, George Andrews Reserve 7pm
August 3: Bentleigh Greens v Dandenong Thunder, Kingston Heath Soccer Complex 8.15pm
August 11: Dandenong Thunder v Heidelberg United, George Andrews Reserve 7pm
August 19: South Melbourne v Dandenong Thunder, Lakeside Stadium 5pm
August 25: Dandenong Thunder v Oakleigh Cannons, George Andrews Reserve 7pm
September 16: Dandenong Thunder v Richmond, George Andrews Reserve 7pm