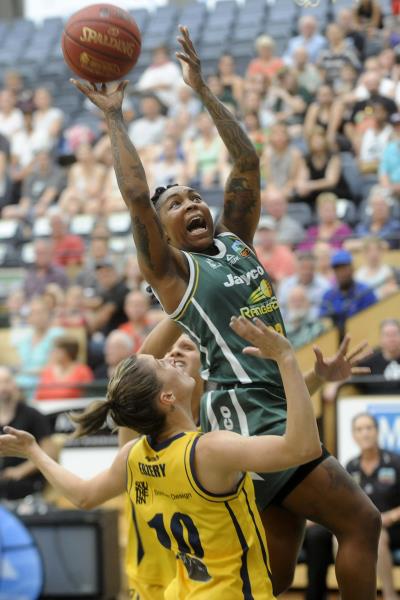 By JARROD POTTER
WNBL – Semi Final
SINGED by the Flames in the second half, Dandenong could not muster a fight-back as injuries and fatigue mounted in its 80-89 WNBL semi-final loss to Sydney Uni.
From smooth sailing in the first half – rocketing away to an 18-point lead at one stage led by Cappie Pondexter (27 points) and Aimie Clydesdale (14 points) – most fans were thinking about next week and who Dandenong would face in the preliminary final.
But another turn in an already unpredictable season for Dandenong unfolded soon after half-time to change those thoughts.
A single third-term fast break defined the entire match and set Dandenong down a course towards defeat.
Penny Taylor (4 points, 7 rebounds) – who had been more impressive with her defensive rebounding on Saturday than her usual scoring flair – charged up the floor after a turnover with a pair of Flames in pursuit.
Taylor laid up the shot and landed awkwardly, falling to the floor.
The 1200-strong crowd fell silent as Taylor laid on the baseline in agony – grasping at her notoriously bad left leg.
The immediate thought – an ACL-rupture in her already reconstructed knee – was soon put to rest as attention focused on her ankle, which the club later described as a 'serious ankle injury'.
It forced Taylor from the game and left Dandenong down one of the finest players in the league with an already battered and bruised roster.
The Flames took advantage of the changing guard and relished the chance to storm home once again like it did last week against ladder-leaders Townsville.
Rohanee Cox (24 points) was sensational in the second half as she hauled the Flames up to and beyond the Rangers' steadily decreasing lead, while Katie-Rae Ebzery (22 points) had the harder task of manning up Pondexter.
The best efforts of Pondexter and Kathleen Macleod 9 points) – who was returning from knee surgery – wasn't enough to see out the clash as Sydney Uni took the lead with a few minutes remaining in the match.
Sydney Uni went berserk from the three-point line in the last term as Dandenong failed to hit even its field-goals from short range, and fouls and fatigue did as much damage to the Rangers' chances as Taylor's injury.
From the five minute mark of the final term, Dandenong did not hit a single basket in open court as Sydney surged to take the 80-77 win.
"At half time we felt pretty good about what was going on… got the third-quarter under way and was feeling pretty good," Dandenong coach Mark Wright said.
"It was disappointing that we couldn't hold on – it's been a year of adversity and that was another one that we hoped to climb over.
"The players did what they could; I thought Cappie Pondexter, Kathleen Macleod and Aimie Clydesdale were unbelievable, but probably didn't have the scoring spread that we needed in a big game like this… the momentum swing when Penny went out was huge."Sydney Uni will face either Bendigo or Townsville in a WNBL preliminary final this weekend.