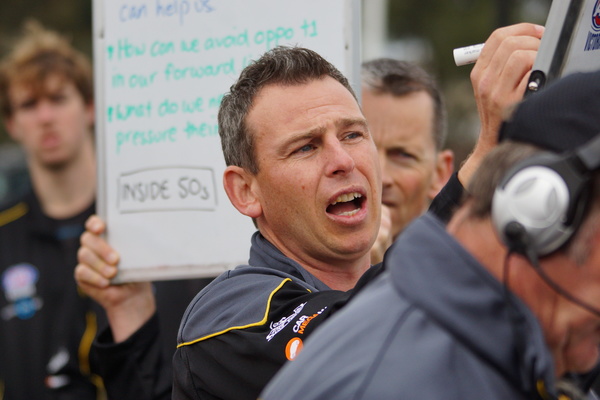 By DAVID NAGEL
Dandenong Stingrays – the perennial bridesmaid of the TAC Cup competition – sit atop the ladder with two rounds to go and look perfectly poised to end a 25-year-old premiership drought in 2016.
The TAC Cup began in 1992 and the Stingrays have the unenviable record of being one of three teams, alongside Bendigo and the Western Jets, to have not tasted the ultimate success.
The Stingrays have contested five grand finals, with AFL stars Adam Goodes (North Ballarat 1997), Dale Thomas (Gippsland 2005), Steele Sidebottom (Murray 2008) and Jake Melsham (Calder 2009) – and Frankston's Ben Cavarra (Eastern 2013) – producing their best on grand final day to deny the Rays of that elusive title.
Stingrays coach Craig Black is well aware of that missing piece of silverware, but said that's not what it's all about in the TAC Cup.
"Look, if we made it to grand final day we'd be trying to win, don't worry about that, but it's sort of a secondary consideration at TAC Cup level," Black said.
"We've been very successful in terms of getting our players drafted, we had six drafted into the AFL last year, and that's the sign that our program is working.
"There's a lot of water to go under the bridge before we get to that point (grand final) anyway, but if the players are improving then team success will a by-product of that."
The Stingrays have lost three games this season and will get the chance for revenge with their final two games against Murray and Geelong – two of their early season conquerors. Black said that despite sitting on top, his team still had a lot of work to do.
"We're going along nicely but we've got a very tough run home, and if we drop both games, and North Ballarat win both, we could drop out of the top four, so it's important we keep on winning," he said.
"At this time of year it's important to have something to play for."
One of the great challenges that confront coaches at this level is getting the future stars of the game to put personal gain aside and to work together as a unit. Personal glory versus team success – Black says it's always a constant challenge.
"That's always a balancing act and we encourage the players to play with attacking flair but make sure it's done within the team structures," Black said.
"There's plenty of exposure at this level, there's nowhere to hide, so if a player is being selfish it will stand out pretty quickly. We keep the players accountable and more importantly they hold each other to account."
The Stingrays take on Murray at Shepley Oval this Saturday at 2pm.