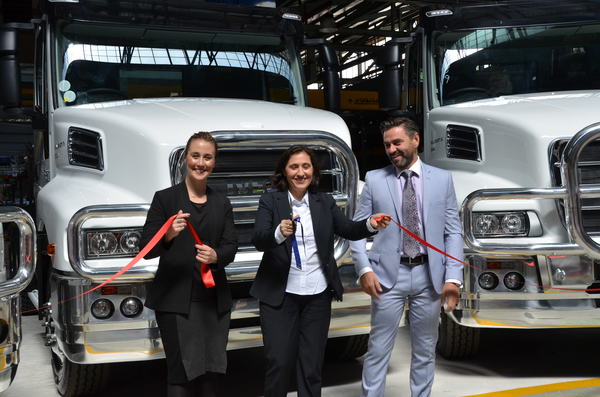 By Casey Neill
A Dandenong South manufacturer is boosting safety for firefighters and the community.
IVECO unveiled four First Attack Dozer Transport Vehicles fresh off the production line on Wednesday 16 November.
They'll be in the hands of the Department of Environment, Land, Water and Planning (DELWP) in time for the fire season.
Energy, Environment and Climate Change Minister Lily D'Ambrosio and Dandenong MP Gabrielle Williams inspected the vehicles and learnt more about the project.
Over the next five years there'll be 39 built at a cost of $12 million at IVECO and at Caterpillar in Laverton.
They'll carry Attack Dozers to bushfire hotspots to enable firefighters to construct fire breaks and clear access tracks, and be used in planned burning in the off-season.
IVECO's Joel Read said the company had been working with DEWLP for some time and ran several trials to get the vehicle right.
"We've come up with this," he said.
"It's an off-the-shelf vehicle for us but it's specifically put together for this application – different tyres, different wheel bases and the like.
"These vehicles are all built in the factory here.
"From here they'll go to another position of IVECO, at one of our dealerships, and other accessories will be fitted like the emergency lights and sirens, a central tyre inflation kit.
"From there they'll have their body fitted so they'll have a tipper body fitted or a trailer and the like to then put the dozer on the back.
"Then they'll become an operational vehicle."
IVECO will hold an induction for DELWP so it can get the most out of the trucks.
DELWP's Nigel Robertson said the biggest change with the new vehicles was a switch from manual to automatic transmission.
"When we went out to the trials about two years ago our people said they didn't want automatic," he said.
"The second time around, when we did the tender process, we put the automatics out there.
"All bar one wanted the automatics.
"It was that impressive.
"It makes it safer for the people driving.
"If you're driving a manual truck and you're trying to change gears and you're going down or up a hill, and if you miss a gear and you've got this weight on the back and you're on a narrow, gravelly road – it's hellish.
"We've lost three trucks like that."
Mr Robertson said the existing fleet was 10 years old and he expected the new trucks to last 15 or more years.