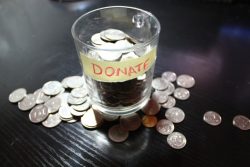 A Dandenong charity has issued a $10 Compassion Challenge to mark Refugee Week.
Friends of Refugees is appealing to those who've previously donated food, furniture, time or money to the group to give $10 and then share the news with 10 friends.
The volunteer-run, not-for-profit organisation fills the service gaps of funded agencies.
It provides people seeking asylum and refugees with food aid and other support services to make them feel welcome.
But CEO Sri Samy said that increasingly adverse government policies had left the organisation struggling to maintain its services.
"For every person the group supports, there are five more who urgently need assistance," she said.
"Currently, there are 80 to 100 people coming to us weekly for food, furniture, education programs, and the chance to learn new skills in our social enterprises.
"These activities and ventures provide training and lead to potential employment opportunities, so that the refugees are able to become a productive part of the economy."
Ms Samy founded the group with her friend and mentor, the late Trevor Grant.
"We were dismayed by the living conditions of these people who came to us seeking protection, and we decided to do something to help them and others in that situation," she said.
In 2014 they set up a drop-in centre in Dandenong with a small warehouse at the back for donated goods.
They have increasing requests for assistance from refugees and asylum seekers from Sri Lanka, Burma, Afghanistan, Iran and Iraq.
"The growing numbers in our food bank queue, in our women's and children's education programs, and the escalating interest in our various social enterprises such as our catering, removals and cleaning initiatives, means that there is continuing pressure on our ability to operate, so donations are much needed," Ms Samy said.
For the past two years, Friends of Refugees has honoured World Refugee Day with an awards event to recognise and celebrate the contributions many asylum seekers made to the local community.
"This year, however, it has become clear that with our limited resources and funding we need all hands on board to support these people who are facing dire circumstances due to our adverse government policies," Ms Samy said.
To donate and participate in the $10 Compassion Challenge, visit friendsofrefugees.org.au.