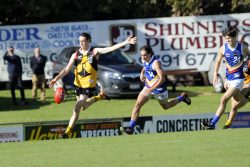 By Nick Creely
TAC CUP (FUTURES ROUNDS)
REVIEW – ROUND 10

The Dandenong Stingrays have survived a late rally by the Murray Bushrangers to claim a massive scalp, defeating the top four side by two-points at Shepley Oval on Saturday afternoon.
With Murray coming into the clash in stellar form, the 'Rays needed to be on their game right from the outset.
It was a massive arm wrestle for the majority of the first term, with both sides looking threatening when given clear space to attack, and scores were level at quarter time.
The 'Rays then had a hot patch in the second quarter, kicking five goals in little time, and streaming to a 24-point lead that proved crucial in the outcome of the match.
With the game looking relatively safe at three quarter time, Murray stormed home as the young 'Rays tired, slamming home goal after goal.
But Riley D'Arcy, who now has 21 goals this season after snaring six throughout the match, kicked the crucial goal with minutes to play that allowed enough separation from the Bushrangers to claim the four points.
"We looked at this one as a really important game, and it's good to get the result," Stingrays stand in Coach Nick Cox said.
"It was a round to play some youngsters, and some of them are not quite ready to go, but that's the point of these development rounds.
"We were really happy for the most part – we did a lot of the work earlier enough and then were able to protect the lead."
Beaconsfield 19-year-old Bailey Morrish was best afield, racking up plenty of touches and dominating with his class by foot and his ability to create attacking thrusts from nothing, While D'Arcy was a force to be reckoned with and Lachlan Young was once again nimble and creative with his disposals.
D'Arcy, who was perhaps unlucky not to be selected for Vic Country, once again showed off his impressive contested marking and goal sense, but still has work to do on aspects of his game.
"Riley was good – I've probably been the hardest on him – his pressure hasn't been great, but he is getting better and improving," Cox said.
But Cox heaped praised on his more senior players, and also said there was plenty of encouragement and promise from the under agers that strode out on the ground.
"Mason De Wit, Morrish and Tom Murphy were just fantastic all day, and that's what you expect from your 19-year-old's – they did make a huge difference in the end," he said.
"Riley Bowman was really impressive, same with Kyle Whitford, James Hickey and Jake Carosella so there was plenty to like from the young kids."
The Stingrays face another tough challenge this week when they face Western Jets at Burbank Oval on Sunday.
DANDENONG STINGRAYS 4.2 9.4 13.8 14.9(93)
MURRAY BUSHRANGERS 4.2 5.4 9.5 14.7(91)
DANDENONG STINGRAYS
GOALS: R. D'Arcy 6, A. Zijai 2, B. Schmidt, J. Carosella, D. Morris, C. Hustwaite, B. Morrish, J. Nanscawen.
BEST: B. Morrish, J. Davies, L. Young, R. D'Arcy, M. DeWit, T. Murphy.
MURRAY BUSHRANGERS
GOALS: H. Garoni 3, D. Johnston 3, M. Walker 2, M. Marriott 2, J. Lane, P. Warner, J. Wilson, B. Frauenfelder.
BEST: K. Clarke, A. Paech, M. Marriott, A. Hicks, D. Langlands, R. Bruce.