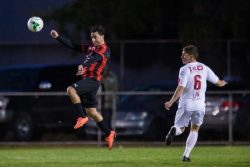 By Nick Creely
NPL2 – EAST
REVIEW – ROUND 22
A rampant Dandenong Thunder continues to close the gap on Dandenong City after a brilliant 5-1 triumph over Werribee City on Saturday night.
As a result of the victory, Thunder close to within three points of displacing City at the top of the table as the season truly starts to ramp up its intensity.
It all started in the 29th minute on Saturday, with Korcari heading home an excellent corner from Brandon Barnes to take an early advantage.
It took just moments for the Thunder to get back on the board, with Adam Centofani finishing off some great work from Korcari to find the back of the net.
At half time the Thunder were 2-0 ahead and not looking like slowing down against a side barely hanging by a thread.
Despite City fighting back briefly with some near moments to begin the second half, Samuel Catherine kicked a goal in the 65th minute, hitting the back left corner with precision and class to give the Thunder a 3-0 lead.
Another two goals – one from Korcari and another from Kristian Sarkies – saw the Thunder pile on more pain to the visitors, who eventually got themselves a consolation prize from a free kick late in match.
Even with star striker Brandon Barnes unable to find the goals, the Thunder looked potent and merciless in attack.
The Thunder host Murray United on Saturday night, with the perfect opportunity to continue their charge to the top.
City, meanwhile, have drawn 0-0 with Brunswick City in a frustrating day for the top side.
Looking to break clear as the top placed side, City travelled to one of the tougher places in Victoria to play – up against an impenetrable Brunswick defence.
In a slow moving game, Brunswick were able to get the games on their terms early, shutting out City's potent attack with slow and precise ball movement.
With some near chances, City almost goaled on several occasions but were unable to find the back of the net.
And in an even second half, no side could break away and goal, resulting in a vital draw that means City's top spot is under threat for virtually the first time this season.
It was, however, a milestone game for City skipper Shaun Filipovic, who was celebrating his 100th senior match.
Filipovic has been an absolute star for the City this season, and will undoubtedly be the most important player later in the season.
The City faces Nunawading City at Mahoneys Reserve next Sunday, with the game looming as one of the most important of the season.