By Nick Creely
Dandenong Stingrays ruckman Bailey Williams is a high leaping excitement machine who is capable of the extraordinary.
Just 17-years-old, Williams doesn't qualify to be drafted until 2018 but is going to be a name that is spoken about consistently for the next year.
Standing at 198cm, Williams has been playing a ruck/ forward role for the 'Rays in 2017 and has averaged a goal a game and over 20 hit outs.
His exploits as a bottom-ager in the TAC Cup earnt him a recall to the Vic Country side for the recent National Championships where he competed with the best young and soon to be AFL players in the country.
At the National Championships, Williams was ultra-impressive for Country where he used his insane leap and excellent goal nous to kick goals and become one of the dominant ruckman throughout the carnival.
Often throughout games, Williams out leapt all the ruckmen in his wake, allowing his midfielders first use of the football.
He told the Journal that the experience was a massive thrill and something that will hold him in good stead in the future.
"It's taken a lot of development to step up to the next level – especially nationals as a bottom-ager.
"I've been in pretty good form at TAC Cup level and sort of thought that I'd have every chance to get a call-up for Vic Country," he said.
"I played alright in the trial games and it sort of just happened (being selected). I definitely felt like I fit in and didn't look out of place as a bottom ager – I was pretty comfortable.
"I was serviceable throughout the carnival but had there been a few more games I could have done more. I was just starting to get into it all.
"I'll be ready to go in next year's carnival. I've had a taste and now I know what it takes and i'm looking forward to it all again."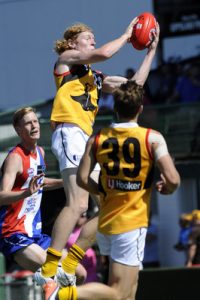 At 14 years of age, at his school – Westernport Secondary College – Williams' freakish athleticism hasn't gone unrewarded.
"I've broken a few high jump records in athletics at Westernport, there were few records set by Andrejs Everitt down at Carlton, and I've broken everyone one of them," he said.
Although playing predominantly as a ruckman as he continues to grow and develop, Williams has a natural ability to kick goals and clunk big contested marks, and sees himself playing a dual role in the future.
"As a junior, I've mainly been a forward, but getting older and my body getting a bit bigger and taller, I've been able to play a ruck role at a higher level – I enjoy both positions, I'm not overly fussed where I play, to be honest," he said.
"I like to watch the more mobile ruckman in the AFL, like a Paddy Ryder, Nic Naitanui and Brodie Grundy and how they go about it and try and learn off them.
"I feel like I've always got the edge over my opponent in the ruck, and down forward I'm pretty dangerous too so it's great.
"It's a confidence thing with me. Earlier this year I doubted myself and probably didn't want to make many mistakes but as I play more games, things are starting to fall into place confidence wise and with my ability to play those positions."
As for the fortunes of his TAC Cup club, Dandenong Stingrays – he said the best is yet to come and can't wait to get stuck into the back end of the season.
"We've played fairly well as a side all year, with some stiff losses, but we have to forget about that now and keep playing good footy," he said.
"The season has been up and down for all sides.
"The side we have in now, I don't see us being beaten very often at all – we haven't had a full team all year and to get those guys in will be awesome."