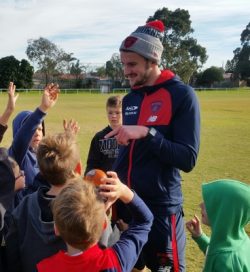 Many families braved the cold Sunday morning start on 2 July to head down to Lois Twohig Reserve in Dandenong North for a chance to train locally with a special guest from AFL's Melbourne Football Club.
The North Dandenong Junior Football club (also known as the Sharks) Auskicker program was honoured to receive Joel Smith who has played two matches to date, with many of the club's enthusiastic Auskickers keen to raise their hands to ask many questions, get pro tips, and get their AFL gear autographed.
Smith, 21, is the son of former Dees' forward Shaun Smith who is famous for a mark taken in 1995 that earned him the title of 'Mark of the Century'.
Shane King, Sharks' Volunteer Auskick Coach, did a great job running the session and getting the kids involved – ensuring all the club's Auskickers had a turn to train with Joel and in sharing out give-a-ways to all kids in attendance.
With NDJFC President Steve Gillies and NAB AFL Auskick District Manager Ray Spinks meeting and greeting the parents, and being available to answer questions during the session, it was a great opportunity for the enthusiastic youngsters.
"It's always fun to have AFL players around the club as it brings a lot of energy and the Melbourne visit did not disappoint," Mr Gillies said.
"From the star struck eyes amassing to see them, you can see the Auskick kids really enjoy it.
"The fun part for me is question time, as you just never know what they're going to say, full of excitement and laughs – it's a real highlight for everyone."
The North Dandenong Junior Football Club is a 100 per cent volunteer run organisation that openly welcomes families and volunteers from the local community.
If anyone is interested in volunteering and being a part of the club, they can find more details at www.northdandysharks.com.au or email Steve Gillies at president.northdandy@gmail.com.