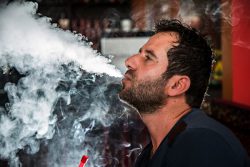 By Casey Neill
New Tobacco Act restrictions have cut a Springvale cafe's business in half.
Ali Adam from Cafe Asmara told the Journal that he'll "probably change business, get into something else" following the 1 August changes.
The amendments to the Tobacco Act banned smoking in outdoor dining areas and included regulation of shisha tobacco and e-cigarettes in the same way as other tobacco products.
Shisha now can't be smoked anywhere that is smoke free.
Mr Adam said the cafe stopped serving food.
"The shisha, we're not doing the tobacco shisha, we're doing the herbs because herbs are exempt," he said.
"It's a big shift.
"Not many people are accepting the herbs, but what can we do?"
The cafe opened 10 years ago and has patrons from all cultures and aged from their twenties to fifties.
He was welcoming about 1000 people through his doors each week prior to the legislation.
"We've dropped 50 per cent," he said.
He said car parking around the venue was now plentiful.
"It's almost closed down," he said.
"It's very hard to adapt. It's going to be harder and harder."
Mr Adam said other shisha bar owners were in a similar position.
"Everyone's got affected," he said.
"But the majority of them didn't serve food to start with.
"I don't think the council or the parliament will reverse it.
"Whatever's been done is done.
"I don't think it was well-studied to come up with this legislation.
"I don't know what was the motive behind it."
Western Metropolitan Region Greens MP Colleen Hartland successfully amended the State Government's Tobacco Act Amendment Bill to include shisha in State Parliament's Upper House in September last year.
"We do not smoke in restaurants anymore and we do not smoke in eating places, so I do not think the water pipe should be exempted," she said.
"Water pipe smoking is as dangerous or more dangerous than smoking cigarettes due to the quantity often consumed in one sitting."
At the time, Australian Lebanese Medical Association president Wally Ahmar applauded the change.
The cardiologist said there was a misconception that shisha was harmless.
"Shisha smoking is like smoking 200 cigarettes," he said.
"You can go to a cafe, have food and have a shisha, yet you can't smoke a cigarette.
"It's a double-standard law."
Mr Ahmar said children could also legally buy and smoke shisha, but not cigarettes.