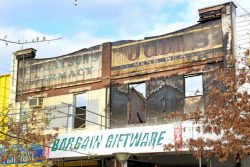 The recent blaze that damaged two buildings in Dandenong's Lonsdale Street burned off their modern facades and revealed the history beneath.
Watch out for Monday's special souvenir Then and Now edition of the Journal which will reveal the history of other well-known landmarks.
Drag the slider on the picture below to the right to reveal how fire scarred 275-277 Lonsdale Street used to look in all its glory circa 1912.