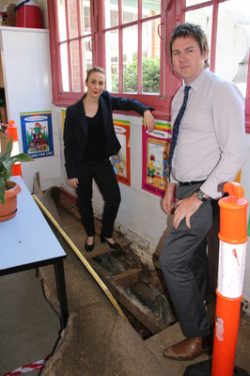 By Casey Neill
A $400,000 makeover is on the way for Dandenong Primary School's heritage-listed building.
"I was incredibly pleased for the school and the school community," principal Daniel Riley said.
"A lot of our money goes into maintaining the building."
The State Government announced the funding on Thursday 9 November as part of its planned maintenance program along with $173,767 for Noble Park North's Carwatha College.
Mr Riley said the well-known Dandenong Primary School building on Foster Street dated back to 1881 so was almost 140 years old.
He said there were cracks in walls and holes in floors.
"We've got windows that we can't open because when we try to close them bits of wood fall off them," he said.
"The other challenge for us is, given its age, it was built at a time when they would have used lead in the paint.
"It's not a straightforward job here if we want to paint.
"We need to get specialist painters in to remove the old paint and dispose of it.
"It does put pressure on the school budget.
"If we can get that all fixed up, it really takes the pressure off looking after the building so we can focus on teaching."
He said the building was "incredible" and "a big source of pride for the staff and the students".
"We still get, from time to time, people who attended the schools years ago coming to the school who want to look at their old classroom," he said.
Earlier this year, a student who attended from 1942 to 1948 popped in for a visit.
"The building really hasn't changed that much in the whole time it's been here," Mr Riley said.
"It really has retained its heritage and its history."
Dandenong's first state school opened its doors at the corner of Robinson and Foster streets on 4 May 1874, following community requests.
It was just two years after the Education Act 1872 created the concept of public schools.
The school moved to Foster Street in 1881 with about 200 pupils.
The Gothic-inspired building had three rooms – one for boys, one for girls and a gallery – and modern fittings included a porch, hat rack and ventilation.