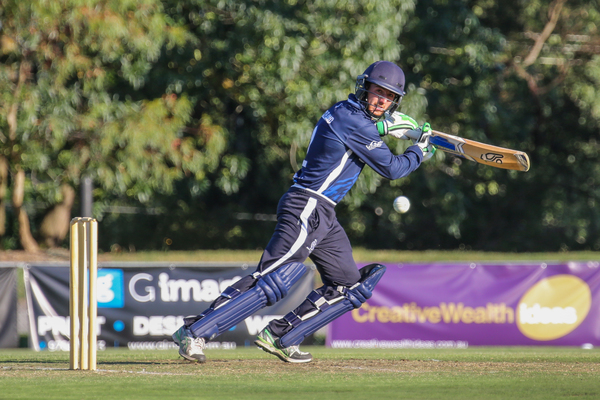 By Nick Creely
DDCA TWENTY20 CUP
REVIEW – ROUND 4
In last Wednesday night's action packed evening of Twenty20 cricket in sweltering conditions across the Dandenong District, it was Berwick who once again proved their might by disposing of Turf 3 club Hampton Park at Arch Brown Reserve.
Batting first, the Redbacks simply had no answers for Bears' marquee man Brendan Rose (5/8), who tore the visitors to shreds and proved his classy with a stunning spell.
Jarrod Armitage (2/9), Cory Bevan (2/15) and veteran Jarrod Goodes (1/9) each did their part as the Bears rolled the Redbacks for just 58.
The Bears wasted little time in swiftly chasing the runs down, with Armitage (20) helping guide the home side to victory in just eight overs, making the entire match just 21.2 overs.
Down at Marriott Waters, Steven Spoljaric helped push Springvale South to a comfortable victory over a gallant Lynbrook.
The champion all-rounder plundered a brutal 66 to guide the Bloods to 8/138 off their allotted 20 overs, before snaring 2/29 as the Lakers scrambled their way to 7/111.
Brett Forsyth (2/15) also managed to snare a couple of wickets for the Bloods, while Lakers' batsman Anurudhdha Foneska (26) top scored for the home side.
North Dandenong also continued its winning ways in the short form, belting Berwick Springs away from home.
Skipper Asfan Thajudeen (37), Shehan Fernando (31), Adam Amin (24) and Gayantha Wijethilaka (29) all combined brilliantly to guide the Maroons to a formidable 0/168 after batting first.
The Springs managed to bat out their overs, finishing on 8/125 after a superb spell by young gun Caleb Millman (4/28).
A gallant effort down at Sweeney Reserve wasn't enough for Narre Warren to topple powerhouse Mordialloc, with the Bloodhounds cruising to victory.
Batting first, the Bloodhounds notched up an impressive 3/167 off the back of a terrific 62 to Brenan Morris, before restricting the Magpies to 4/103 after their 20 overs.
Perhaps the biggest surprise of the night's action was down at the clash between Narre North and Hallam Kalora Park, with the North defeating the Turf 1 club by 27 runs.
Batting first, the North notched up 6/138 after Josh Henry's (57) fluent knock at the top, but not even in form batsman Thailvan Xavier (30) could guide the Hawks to victory, with Henry (2/16) starring with the ball to restrict them to just 111 in 18.3 overs.
In the night's other matches, Dandenong West (6/123) defeated St Mary's, St Brigid's/St Louis (7/121) continue to surprise with another victory over Cranbourne (7/120), Heinz Southern (7/188) proved a class above Doveton North (105), Narre South (8/180) toppled Parkfield (8/165) in a high scoring encounter, and Dingley (111) defeated Silverton (87)
With just one round left to play, the current quarter finalists are: Buckley Ridges, North Dandenong, Berwick, Narre North, St Brigid's/St Louis, Springvale South, Heinz Southern and Dingley.