By Nick Creely
Considering how Narre North started, that's a premiership to savour.
Up against Narre South in a Turf 2 grand final of tension and pressure, the Rams lifted when it mattered most, knocking off their arch rivals in a game that will be remembered for a long time for the men in blue.
Winning the toss and batting, champion Lion Scott Phillips got off to the perfect start in the first over, rummaging through the gate of skipper Matt Brooks and Marshall Gray in consecutive balls, and suddenly he was on a hat-trick within minutes.
From 2-0, the Rams found the steel to overcome Phillips' electric opening spell, with Kyle Hardy (30), Josh Tonna (27) and Ryan Hendy (27) combining superbly to guide them to a competitive 191 in 80.3 overs.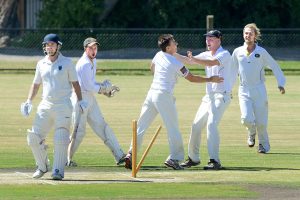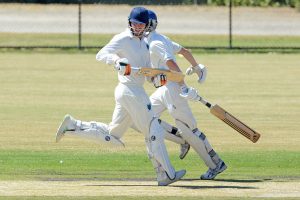 While the Lions did stutter to 3/35 at stumps, with Phillips waiting in the wings to bat, the Lions probably had their noses ahead.
But enter Hendy (5/26), who ripped through the defence of Michael Ritchie (17) with his first ball, and not long after, found the match winning scalp of Phillips to leave the Lions in tatters at 5/81.
Relentless pressure meant the Lions couldn't find the partnership needed to steady the ship, and Hendy continued to find the wickets, bamboozling the opposition with his varieties.
The Lions scrapped their way to 121, with speedster Josh Dowling also starring with 3/49; including a stunning late spell on day one.
Hendy's brilliant season culminated in him taking 42 wickets at 12.5 for the season, as his storied cricket career in the DDCA continues.
But it's another wasted opportunity for the Lions, who have been minor premiers for two consecutive years, only to not walk away with any silverware.
Other Grand Final results:
Turf 3: Springvale 220 (B.Janith 48*, H.Alles 46, H.Sohal 43, S.Rajapakse 35, A.Taylor 5/25, A.Cross 2/48) def Berwick 182 (T.Harsha 6/36, B.Janith 2/57)
Turf 4: North Dandenong 155 (D.Fowler 40, C.Millman 31, R.Solomons 25, R.Williams 3/43, M.Timori 2/20, S.Iqbal 2/26, S.Sanish 2/30) and 3/71 (B.Edirippulige 2/21) def Parkfield 72 (S.Iqbal 32) and 9/153
Turf 5: Silverton 141 (B.Medley 55, P.Sukhija 25, D.Kerslake 3/23, L.Laird 2/12, J.Hocking 2/15) def Beaconsfield (G.Marinic 38*, D.Weerasinghe 3/11)
Turf 6: Doveton North 132 (R.Forgiarini 40, B.Jansz 4/34, S.Marinelli 3/21, B.Hookey 2/36) def Cranbourne 121 (D.Arnett 5/35, M.Forgiarini 2/15, R.Forgiarini 2/28)
Turf 7: Heinz Southern Districts 7/260 (P.Stockdale 97, G.Wiramanaden 64, T.Bertrand 37, W.Temby 3/55, J.Bailey 2/77) def Lynbrook 91 (W.Temby 30, H.Paulas 3/11, G.Hamilton 3/13, P.Stockdale 3/22)
A Grade: Berwick 3/150 def Narre Warren 149
B Grade: Berwick Springs 95 and 4/110 def Mordialloc 91
C Grade: Parkfield 4/198 def Berwick 9/196
D Grade: Berwick Springs 218 def Beaconsfield 120
E Grade: St Mary's 207 def Berwick Springs 140
F Grade: Dandenong West 345 def Beaconsfield 258
One Day 1: Buckley Ridges 1/125 def Parkmore Pirates 121
One Day 2: Cranbourne 3/172 def North Dandenong 6/169