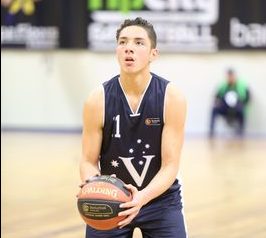 By Hayley Wildes
When Noble Park local Jerome Pierre found out in March that he would be representing Victoria Metro on the national stage, he was excited, proud and just a little bit shocked.
He was excited for the opportunity to showcase his game at the Basketball Australia under-16 Junior Championships, proud to be pulling on the big V jersey and he was shocked because, in reality, 14-year-olds aren't meant to be making under-16 national championship squads.
What makes Jerome's journey even more incredible is the fact that the 196cm centre only began playing basketball in 2016.
"I was very proud and also shocked [to make the team], because it doesn't really happen for 14-year-olds," Jerome said.
But that shock quickly wore off and when the championships tipped off earlier this month on the Sunshine Coast, Jerome was ready.
As Vic Metro's starting centre, Jerome was sublime against South Australia, finishing with an impressive double-double of 15 points and 10 rebounds. Vic Metro claimed the win, 76-47 and would go through the tournament undefeated.
In the grand final, Vic Metro took on Vic Country in what was a titanic struggle. Vic Country led by five points at half time, before scores were tied at 54-all heading into the final quarter.
In a dominant fourth quarter effort, Vic Metro turned the screws on defence and held their rivals to just 10 points to claim the championship, 74-64.
Speaking about the grand final, Jerome and his teammates never lost faith.
"I never had any doubts with our team. I knew we could come back," he said.
"We all put a lot of work into it, so we were determined to win it."
Jerome more than proved himself against his older opponents and led his gold medal-winning team in rebounds (7.43), as well as putting up eight points per game too.
Having taken up the game only recently, Jerome credits Dandenong Basketball – and his parents – for helping fast track his development.
"Dandenong has helped develop me, they've supported me and all the coaches are very helpful," he said.
As a centre, Jerome prides himself on rebounding.
"I really try to grab every rebound. That's just my mindset; grab every rebound possible," he said.
While rebounding is one of his focuses, Jerome also spoke about the need to control his emotions on the court. This is something that he has been working on tirelessly and by studying the game of a college basketball star, he has seen improvements.
"Jericho Sims, who plays for the Texas Longhorns in college basketball – he's not a professional player yet – but I really look up to him," he said.
"I like how he's very relaxed and doesn't get frustrated. I've had a history of getting angry in games and I really try to be like him out on the court."
Jerome Pierre possesses the height, skill and understanding to take his game to the next level. At just 14 years of age, and with a national championship to his name, this is just the beginning for the kid from Noble Park.