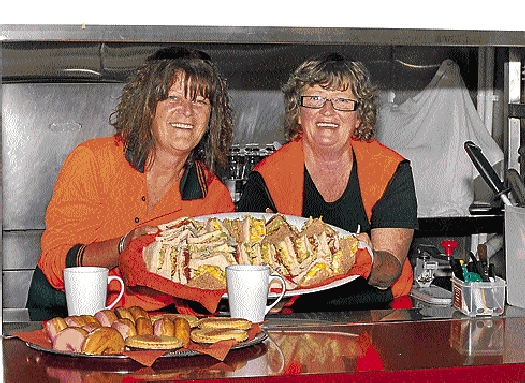 By CAMERON LUCADOU-WELLS
MANY a good friendship has been forged over food so Trisha Keilty hopes healthy ties can form between her Avocare Community Distribution Centre and Jamie Oliver's Ministry of Food.
The Oliver phenomenon has been confirmed as heading to Greater Dandenong by next year.
Avocare provides 300 healthy meals a week for people in need from Monday-Friday, sourcing fresh left-overs from supermarkets.
Its work won a National Heart Foundation Award in 2008.
Ms Keilty, Avocare's general manager, saw a direct fit with Oliver's anti-obesity program.
"We're saving a lot of food from going to the tip which is fresh food and vegetables and making it into food for the community.
"This week we had a lot of pumpkins and our chef has made the most wonderful pumpkin soup for our cafe."
She has plans for healthy cooking classes for newly-arrived migrants, many of whom don't recognise or know how to cook local fruit and vegetables.
"Unless you taste the vegetables, you're not even going to buy it. We've also heard horrific stories of people taking 5-6 spoons of sugar in their tea because they don't know better."
The Oliver roadshow, with $2.87 million of state funding, includes a mobile kitchen that will stage healthy-cooking classes and travel to community events in 14 municipal areas in Victoria.
As seen on TV, the campaign seeks to curb the rise of lifestyle diseases and obesity through teaching about healthy food and simple nutricious food.
It is backed by The Good Foundation and a number of partners such as FareShare, which is also an ally of Avocare.
"I think Jamie Oliver has done a marvellous job in the UK and it's about time the same thing happened in Australia," Ms Keilty said.
Greater Dandenong has one of the worst health records in the state, with higher than average rates of inactivity, diabetes and heart disease.
Greater Dandenong Council is unrolling its own 'positive health' program of nutrition programs including a healthy food hub at Dandenong Market in the next two years.
Asked if the council would unite with the Ministry of Food program, a spokeswoman said the council had yet to receive sufficient details of the program.