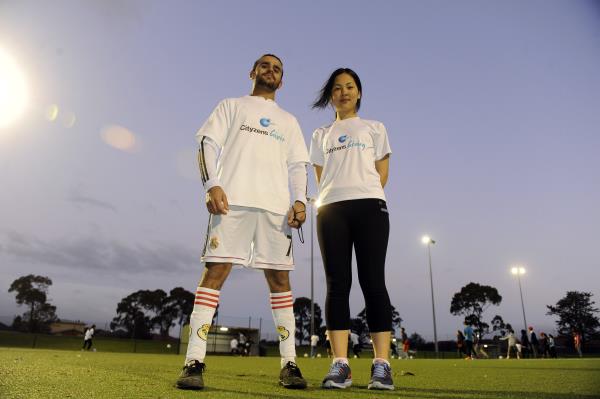 By CASEY NEILL
THE World Game is living up to its moniker in Dandenong.
Soccer is uniting youth from around the world on the pitch, and has sent two young leaders to the other side of the globe.
Centre for Multicultural Youth (CMY) is running the I Speak Football program at Mills Reserve from 4.30pm each Monday during terms two and three.
Malesh Jadaeile from Doveton is a youth facilitator for the free activity designed to highlight discrimination, equality and participation.
"It's not like a club… we play games usually at the end of the session," he said.
"We get them to do social activities to get to know each other.
"It's not all about football, there's some social cohesion."
Mr Jadaeile said eight people took part in the first session but this had grown to about 30.
Lyndale Secondary College students Caroline, 16, and Nasri, 18, wanted to indulge their love for soccer and meet new people.
"Whoever was alone, I went up to them the other day," Caroline said.
"For the girls, some of them think they're not good enough to play with the boys so you just tell them 'be yourself and don't worry about how good or how bad you are, just have fun'.
"During the games the girls have to touch the ball twice before we can score a goal.
"I would like more kids to come and have a shot at it."
I Speak Football has also joined global community initiative Cityzens Giving, run through the Manchester City, New York City and Melbourne City football clubs.
Two young leaders who helped to initiate and run the weekly sessions in Dandenong were chosen to travel to Manchester, England, for the first City Football Global Young Leader Summit on 13 June.
Lena Mirzae, 19, from Cranbourne East, said she wanted the program to combat racial discrimination and barriers.
"Whenever everyone's here they forget about it," she said.
"Everyone's in the mindset of playing football and making some connections."
The bachelor of business student said attending the conference was a dream come true.
"I had an exam clashing with it and they wouldn't give me special consideration so I decided to withdraw from the unit and do this," she said.
"We'll build up our leadership skills and bring them back home.
"I've always been a big fan of soccer, it's in my blood.
"Back home in Afghanistan this kind of opportunity was limited, especially for the girls."
Mohammad Zarjan, 23, from Dandenong, was also excited about the conference and thrilled with how the project was developing.
"People are enjoying it and having fun and laughing," he said.
"Different people from different backgrounds are playing together and talking together and are happy.
"They forget about their past and their suffering and come together and play."
Call Rei Kori on 9340 3700 or email rkori@cmy.net.au for more information about I Speak Football or to get involved.