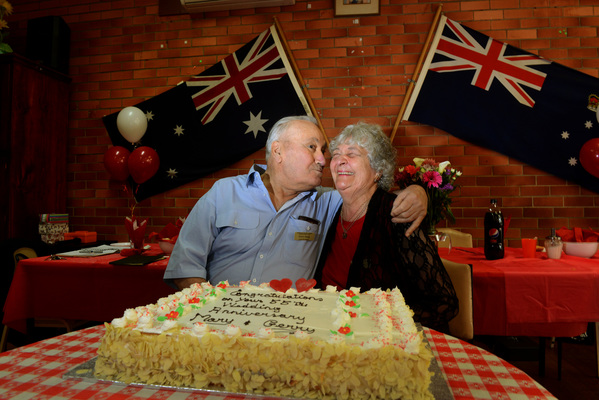 By CASEY NEILL
TALKING has been the key to Mary and Gerald Borg notching up 55 years of wedded bliss.
"Fight but make up before you go to bed," Mary said.
"Don't keep secrets. If there is something that is bothering you, talk it over."
Mary, 78, and Gerald, 82, celebrated the anniversary on Tuesday 20 October at the Springvale Senior Citizens Multicultural Club, where Mary has served as president for the past 12 years.
"He's a very good husband," Mary said.
"I never thought we were going to see all those years.
"We've had our ups and downs, but more ups."
A 22-year-old Gerald was changing electricity wires near Mary's home in St Julians when he spotted the 17-year-old.
"He saw me there and he started to convince me to go out with him," she said.
They married at the local Catholic Church on 16 October, 1960, in front of 300 guests and soon had two children, Michael and Paul.
The Borgs arrived in Australia for a holiday on 26 January in 1966.
"Australia Day to me meant nothing at that time, but later it meant heaps," Mary said.
"Exactly one year later a son was born in Australia on Australia Day."
John died two years ago from a heart attack, aged 45.
Their son Frank was also born in Australia, and Mary and Gerald have four grandchildren.
The couple have lived in Springvale since their arrival and Mary is a Greater Dandenong Living Treasure.
"We love it here," she said.
Mayor Sean O'Reilly and councillor Roz Blades attended the anniversary celebrations.
"I was so happy to see them," Mary said.
"It was very nice for me because I didn't do anything – everything was done for me!
"Thank you to the committee. I love them very much."
Call 9546 9512 for information about the Springvale Senior Citizens Multicultural Club.