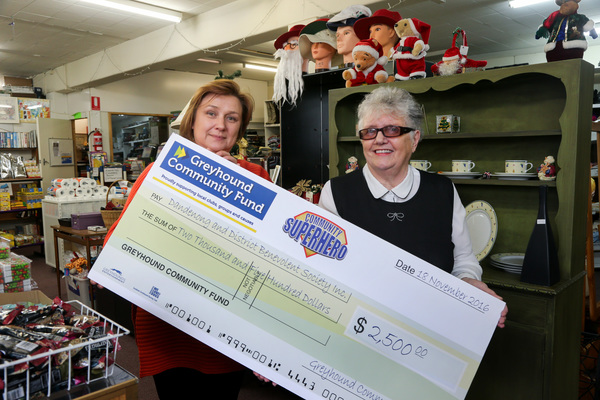 By Casey Neill
It's official – Margaret Ladner is a superhero.
The Greyhound Community Grants Fund named the outgoing Dandenong District Benevolent Society manager its top Community Superhero at an awards night at the Sandown Greyhounds Melbourne Cup in Springvale on Friday 18 November.
She was stoked with the $500 runners-up prize, and blown away when she was announced as the winner and recipient of a holiday for two to Hayman Island, $2500 for the society and more.
"Now my son's phoning up saying 'is the super hero home?'," she said.
The achievement seemed even more remarkable when Glasgow-born Ms Ladner revealed she spent 10 years in hospital battling tuberculosis as a child.
"Doctors and nurses were my parents," she said.
Her treatment started when she was two and finished when she was 18.
"I went to work with crutches and callipers," she said.
"I feel as though I lived in Charles Dickens' days!
"I was sort of an orphan in there.
"It was a two and a half hour bus trip and mum had five kids.
"I had to be separated from everybody."
Ms Ladner still bears scars on her hands from abscesses and her leg has been "locked up" since she was 16.
"I've managed. I've had a good life. I've danced, I've sang," she said.
"I'm a party girl at heart.
Her move to Australia in 1981 – "the day that Diana and Charles got married" – wasn't entirely voluntary.
"Maggie Thatcher made me," she said.
"All my family had emigrated here. They were all here in the 1950s.
"I came for a holiday and I hated it.
"I loved Scotland. I was in my job about 18 years.
"Margaret Thatcher came in and cut all the jobs."
The American firm she'd worked with for almost two decades was shut down.
Her sister said she'd find her a house in Australia so, at age 45, Ms Ladner made the leap down-under.
The widow met and married Aussie bloke Geoff, found a job with then-Dandenong Council and found Dandenong Benevolent Society.