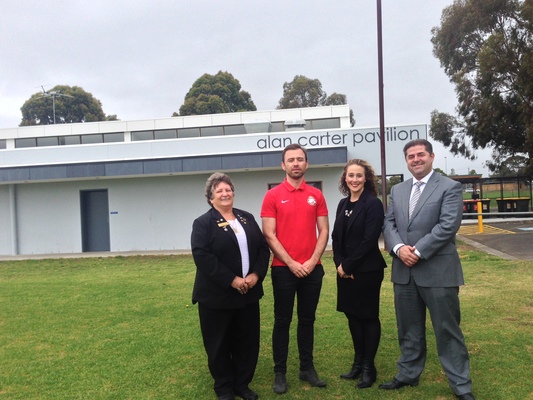 By Casey Neill
THE future is looking brighter for the rugby and soccer pitches at Greaves Reserve.
On Monday 5 December, Dandenong MP Gabrielle Williams announced a $100,000 grant from the State Government's Community Sports Infrastructure Fund to help fund new 200 lux floodlighting.
City of Greater Dandenong councillors will now need to give the green light to chipping in $400,000 in next year's budget to complete the project, as the site will need a power upgrade.
The lights are likely to be ready to shine at the start of 2018.
"Grassroots sport in Dandenong is at the heart of our local communities, and local players deserve quality facilities," Ms Williams said.
"This lighting upgrade will allow local clubs to better utilise their facilities throughout the year and provide more opportunity for people to participate in team sport."
South Eastern Titans Rugby League Club and White Star Dandenong Soccer Club both use the site.
The Titans' Sohan Vyse said the current lighting only stretched halfway across the oval and meant the club's 180-odd players couldn't train at the same time.
"We would like to have everyone training together," he said.
White Star Dandenong Soccer Club president Rob Drozdz said poor lighting had hindered the club's growth and the new system would give confidence to parents and open the door to night matches.
The club will field seven junior teams, two senior sides and a masters team next season.
It's hoping to grow from 100 playing members this year to 150 next year, with the goal of being the leading community soccer club in Dandenong.
Mr Drozdz said White Star was about getting kids off the street, keeping them involved in their community and teaching them skills on and off the pitch.
There's a focus on teamwork and mateship.
"We're pretty excited, we've got a pretty bright future ahead," Mr Drozdz said.
The lighting announcement followed the official opening of the redeveloped Alan Carter Pavilion at the site in February.
It received a $1.34 million council facelift to the changerooms, a multi-purpose space, canteen, commercial kitchen, storage rooms, first aid room and umpires rooms.
White Star Dandenong Soccer Club is looking for new junior and senior players. Call Mr Drozdz on 0421 096 238 for more information.