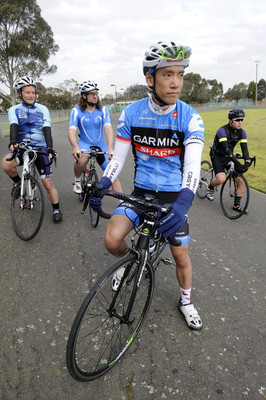 By Cam Lucadou-Wells
The daughter of Noble Park sports legend Maurice Kirby has spoken out against draft plans to demolish a velodrome named in his honour.
Gayle George told Star News the family was not consulted by Greater Dandenong Council, which had proposed to remove the Parkfield Reserve cycling track for a shared cycling path, soccer fields and cricket nets.
"The first I heard of it was when I was recently messaged on Facebook.
"I was very disappointed."
Her larger-than-life father Mr Kirby ran a cycling shop in Noble Park, was a sports caller and set up the enormously popular Pedals Club for hundreds of children in the 1950s.
"Dad was interested in helping kids. He had a heart of gold," Ms George said.
Tom Ortenburg was one of many children that benefited from Mr Kirby's kindness and passion for cycling.
"Where are the facilities for riding? A place where you can ride around and teach the children in a safe environment.
"People are riding bikes more and more. And we're taking facilities away."
Meanwhile, cyclists are opposing the notion that the Maurice Kirby Velodrome is 'disused', as described in council documents.
They are being backed by Cycling Victoria, which insists it is a required facility, though no formal cycling club is based there.
Cyclist Kim Nguyen, of Springvale, says he trains at the track because it is a safer alternative for riding fast than on roads or bike paths.
A Strava app lists the venue with the best times of up to 19 riders who train at Greater Dandenong's only velodrome.
"Sometimes I reach speeds of up to 50km/h. You can't do that on bike paths where there are joggers, kids and cruising cyclists.
"You need infrastructure to provide for cycling as a sport."
Cycling Victoria chief executive Paul Jane said the velodrome was "an important community asset that has not been maintained to an acceptable standard".
He said there was a widespread fear of riding bikes – 93 per cent of the population according to a state transport study – that could be overcome by safe places like velodromes.
"Places like the Noble Park Velodrome provide and are free on any other conflicting users that you may find of an off road trail."
Acting city planning director Ben Jackson told a 13 August council meeting that the velodrome was at the end of its life, and would require significant works to comply with current standards.
He said there would be a move to recognise Mr Kirby at the site, if the removal went ahead.
Engineering services director Julie Reid told Star News that a draft masterplan was created last year through "extensive" community consultation.
"No final decision has been made in relation to this reserve," Ms Reid said.
"Council has recently sought community feedback on the draft masterplan and is reviewing this feedback at the moment."