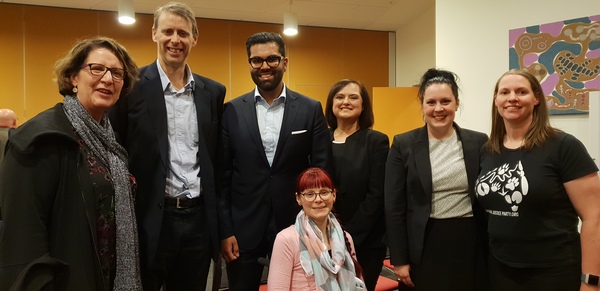 By Cam Lucadou-Wells
Major political parties were in the minority at a State Election pokies Q&A at Dandenong Civic Centre.
Of the 'big two' parties, Labor's upper house candidate Tien Dung Kieu was the party's sole representative.
Gaming Minister Marlene Kairouz was a no-show.
No Liberal MP attended.
On the whole, the minor parties – who made the majority at the forum on 7 November – railed against gambling's harms.
And they believe most of the community is behind them.
Greater Dandenong is a heavy loser on the pokies, with $120 million-plus spent down the slots. It is also one of the most pokies-dense council areas in the state, candidates pointed out.
Three Greens candidates headed by deputy leader Nina Springle argued for the removal of all pokies from suburban clubs and pubs by 2028.
There were some reservations from anti-family violence independents Tarang Chawla and Nicole Lee.
They said some victims sought refuge in pokies venues, escaping from toxic, dangerous homes.
A pokies phase-out would have to be coupled with alternative safe-places and more understanding of the players' underlying issues, they argued.
Derryn Hinch's Justice Party didn't support the wholesale removal of pokies, especially from community clubs.
Nor did physics professor Mr Kieu, of the ALP, who asserted gambling was a product of "human nature".
Some of his rival candidates compared the line to Big Tobacco's alibis in the past.
Mr Kieu said he knew first-hand of Vietnamese community members suffering losses of thousands of dollars a day and wrecking families and their health.
He cited local man Van Truong Nguyen who offered to smuggle heroin to pay off his brother's gambling debts.
He was executed for drug trafficking in Singapore at age 25.
"The harms … are real and important but it's complex," Mr Kieu said, in arguing for resources and education rather than pokies bans.
"Personally, I don't believe gambling can be reduced to zero."
Dandenong Greens candidate Rhonda Garad, who holds a PhD in public health, movingly told of her own brother being "struck by an industry that shows no concern for (gamblers') welfare".
His habit spiralled into addiction, despair and suicide.
Reason Party candidate and former legal-aid lawyer Laura Chipp had a former client facing potential jail over a $120,000 bill for unpaid road tolls.
It turned out that the client's abusive and pokies-addicted partner was running up the tolls driving the car to Crown Casino every night.
The client was trying to provide food and shelter for her four children while the partner was in thrall of a gambling addiction.
Eight months later, her 16-year-old son was charged with stealing $40 of groceries because there was no food in the fridge.
Greater Dandenong is part of Alliance for Gambling Reform, which is calling for lower maximum bets, lower cash-out limits and shorter opening hours at pokies venues.
It is strongly opposed by the gambling industry.
But Ms Chipp noted the majority of pokies players back the reforms.