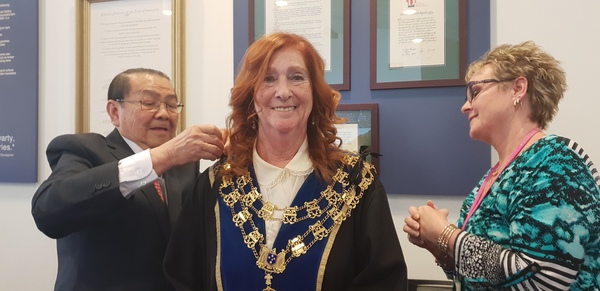 By Cam Lucadou-Wells
Greater Dandenong's newly-elected mayor Roz Blades has nominated public transport and homelessness as among her top priorities over the coming 12 months.
"I want to look after the families in Greater Dandenong – that's the theme of this mayoralty."
Cr Blades was elected unopposed by her colleagues in a ceremony watched on by family, friends, Greater Dandenong's 'Living Treasure' elders and faith leaders on 15 November.
She told Star News that she'd lobby the State Government for better PT links to workplaces in Abbotts Road, Dandenong South.
It would help give access for Greater Dandenong residents otherwise isolated from work opportunities.
Jobs can help lift people out of homelessness, the long-standing Springvale Benevolent Society volunteer said.
The council's housing implementation strategy will also be re-activated – tackling the lack of public housing and affordable housing in the area.
"It's a huge issue in Greater Dandenong," Cr Blades said.
"I'm sure it's not easy to (solve). Sometimes we leave the most difficult things till last."
She told the meeting at Dandenong Civic Centre that this would be a "year of working together" – with councillors, businesses and residents.
There was special mention of Greater Dandenong's Interfaith Network – a collective of faith leaders promoting harmony in a region of "incredible diversity".
Her colleagues paid glowing tribute to Cr Blades' peerless hard work and judgement during her 25 years as a councillor.
Cr Sean O'Reilly spoke of the 'Roz Blades test' as Greater Dandenong's version of the 'pub test'.
"You have the best finger on the pulse in the community if I need advice on particular issues."
Cr Jim Memeti said Cr Blades was "everywhere" in the community, and perhaps the hardest-working councillor in the state.
Outgoing mayor Youhorn Chea passed on his ceremonial robes on a "high note".
His recent mayoral charity dinner raised $25,000 for charities Springvale Benevolent Society, Friends of Refugees, Life Without Barriers and Springvale Ethnic Chinese Elderly Caring and Friendship Association.