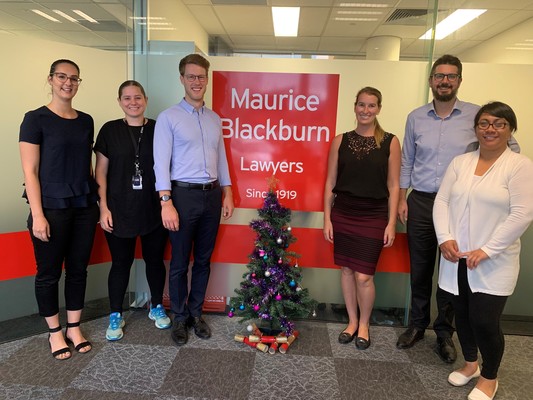 -
Staff at a Dandenong law firm have dug deep to 'adopt' a family of six for Christmas.
It's the fourth consecutive year that the Maurice Blackburn Lawyers office has pitched into the Adopt A Family program and bought gifts for an anonymous family.
This Christmas, the beneficiaries were a family including four children ranging from 10 years old to a newborn.
Armed with a fact sheet on the family's ages and interests, the staff put in some thought for gifts.
One staff member donated $190 of Village Cinema vouchers, another donated a $75 Myer voucher.
Other gifts included a bunch of toys, clothes and toiletries, all wrapped or parceled into gift boxes.
Maurice Blackburn Dandenong principal Gino Andrieri said the personal injury lawyers often helped people in extremely stressful situations every day.
"So this was a really fun and joyful way for the office to get together and channel our energy into helping others.
"There's a real sense of pride about it. Seeing all the gifts collected together, and knowing that the whole office pitched in, it was a real feel-good moment.
"Over the years people with injuries do it really tough over Christmas and this was a small way we felt we could give back to our community."
The Adopt A Family charity program is run by Launch Housing, which collected the gifts on behalf of the family.