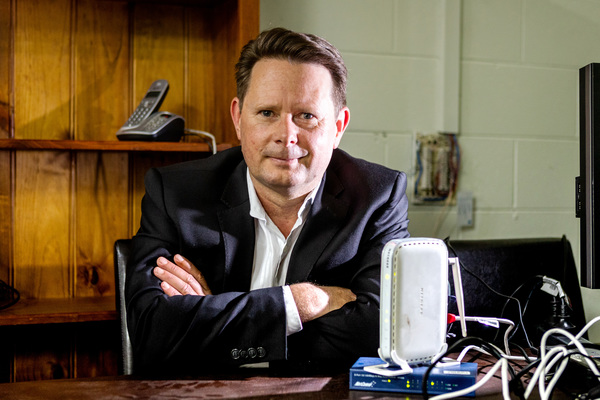 By Cam Lucadou-Wells
Despite two recent visits from NBN Co, a high-speed internet connection remains elusive for Springvale businessman Nick Chiselett.
After being promised NBN by last September, Mr Chiselett has endured frustrating delays for access that's available to his next-door neighbor in Garnsworthy Street.
Saddled with sluggish ADSL 2+ internet, his software development business 2 Bytes has been losing $100,000 in business a month, he says.
Bewilderingly, the network is available for 10 shops at the commercial/retail strip but 10 can't get connected.
He has thought of literally punching a hole in the wall and offering to pay for the neighbouring social club's NBN connection.
In the meantime, three different teams of NBN contractors have inspected the site.
After Star News made enquiries, NBN Co paid a visit that week in December.
Initially it planned for heavy concrete cutting to hook up 2 Bytes. Mr Chiselett had expected this work to proceed on 8 January.
But on that visit, the plan changed to installing an aerial lead-in cable. The contractor however didn't have access to a bucket truck to carry out the work.
NBN spokesperson Russell Kelly said the aerial cable would cause the "least amount of disruption"
"A bucket truck is required to successfully complete the connection and a field supervisor attended the site today to plan the work which is due to be carried out early next week, weather permitting.
"NBN Co apologises for the delay."
Nearly all of Springvale is ready to connect to NBN, but a small percentage of properties required "additional work to connect", Mr Kelly said.
Mr Chiselett had plans to expand his software development business 2 Bytes in summer, with the promise of large jobs in the USA and Europe.
The NBN was crucial for 'cloud' uploads and internet voice calls as part of doing business around the world.
His ADSL II+ internet doesn't cut it – its 'ping' time of 1200 milliseconds is more than 20 times slower than the benchmark. It makes the task of designing a website up to five times slower, for example.
"The ADSL has got worse since they turned the NBN on (for neighbours) in September.
"Staff are having to upload videos on their NBN connections at home. We can't have proper conference calls.
"It's just ridiculous."