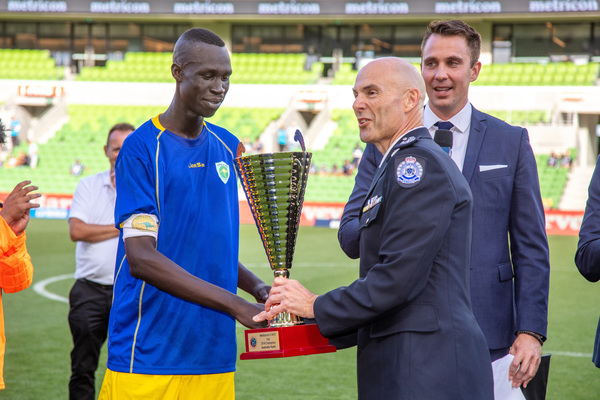 By Hayley Wildes and Cam Lucadou-Wells
The Keysborough-based Australia Youth team scored a spectacular win on a big stage at AAMI Park on Australia Day.
The team travelled to AAMI Park and put on a show in the final of the U-Nite Cup, played as the curtain raiser to the Melbourne Victory and Sydney FC blockbuster.
Taking on Timor Leste, winners of three U-Nite Cup finals, the Australia Youth Team played brilliantly and scored a convincing 3-0 win.
The first goal was a spectacular volley struck outside the 18-yard box.
"It was so great to just get there, the boys were so excited," coach Gavin Ithier said.
"Just from the moment we got off the bus to when we walked up the race to warm up, the smiles on their faces were priceless.
"They played amazingly and to win it, that was just fantastic for them after working so hard."
The team is part of The Future Footballers Project – which is changing lives, on and off the field, for youth in the South East.
Mr Ithier says he is using soccer as a harness to reach out to those in need in the local community.
"I've been doing a little bit of work for a soccer academy over the last couple of years and I was going to places like the English Language School and just all different areas, and what I saw was that little kids, their parents just don't have the money to send them to play local soccer," Mr Ithier said.
"I just thought that I'd start the Future Footballers Project and the first thing that we've done is run the Australia Youth Team."
The Australia Youth Team is a 25-and-under multicultural team from the South East.
As well as fielding the Australia Youth Team, the Future Footballers Project will run kids soccer clinics, scholarships for kids to play at club level and an under-13s team.
"We're aiming to provide 10 scholarships this year, so we're trying to raise money for that to get kids into local soccer clubs," he said.
"$5000 will provide 10 scholarships, which will give them boots and a training kit as well as fees."
The clinics are a highlight for Ithier.
"To kids with not much, they just love it," he said.
"We just try to get them early, give them a love of soccer and it keeps them off the streets doing things they aren't supposed to be doing."
For more information, to donate or sponsor, email ffp@thefuturefootballersproject.com.au or head to their Facebook page 'The Future Footballers Project'.