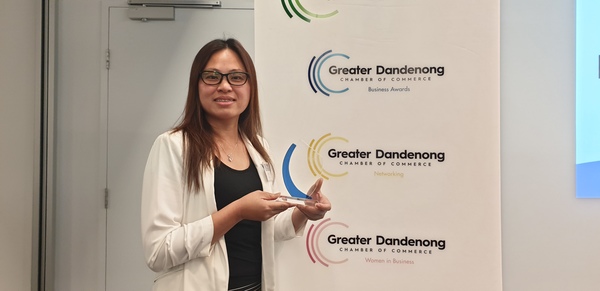 By Cam Lucadou-Wells
Man Wang was chatting with a fellow worker at a fast-food packaging factory when the penny dropped.
His colleague had worked the same monotonous job for 35 years, he was just hanging on to see retirement.
Mr Wang determinedly decided to take a different path. A recent Chinese immigrant with little English, Mr Wang's path to running his own security gate manufacturing firm in Dandenong wasn't easy.
But a decade later, the firm Boswen had won a tender for the Caulfield-Dandenong Level Crossing Removal Project.
At an awards event on 7 May, Boswen was one of three Greater Dandenong Chamber of Commerce 2019 award nominees.
Other finalists were Thrifty Car and Truck Rental Dandenong and Soccer 5s Dandenong.
Soccer 5s centre manager Jack Gillibrand told the Chamber of Commerce event at Hotel Artura that the centre's world-class synthetic pitches were filled with 250 teams a week.
Such centres are common in the UK, but none of its type existed in Melbourne. Its owner had identified the soccer-rich Dandenong area as the right fit.
Soccer 5s opens its pitches to the Doveton Special Soccer School for weekly training, a Dandenong High School girls side and its own junior pathway programs and teams.
Thrifty's Dandenong franchise started as a used car yard hit hard by the 1990 recession.
Rick and Rhonda Lawrence put up their last five cars for hire, and their thriving franchise with a $30 million turnover followed.
In the past five years, its fleet has grown from 500 to 2200 vehicles, with a staff of 135. They own 15 other Thrifty franchises in Victoria.
Disability Certificate IV student Zoe Atterbury, 22, was awarded the Youth Enterprise nomination.
At 22, she made a career U-turn from event management to disability support. With a need for 25,000 further disability support workers in Victoria, she had an urge to help people, she said.
While studying the intricacy of NDIS, she works for employment firm Hire Up and takes groups on outings to the cinema and markets as a disability support worker.
"I couldn't imagine working in another field," she said.
Boswen co-director Stella Ta – the wife of Man Wang – elaborated on the business's obstacles.
They had ploughed their $20,000 savings into the new enterprise, while Ms Ta was pregnant with their first child.
Mr Wang had hoped to continue to sell Chinese-made security gates like he had previously in China and Vietnam.
But the extremely wide doors he had sold could not find a market in Australia.
"When you have no option, you just keep going," Ms Ta said.
They reinvented themselves as manufacturers and installers of automatic gates and security fences. The firm has grown 100 per cent a year to a $12 million turnover, 4000-client business.