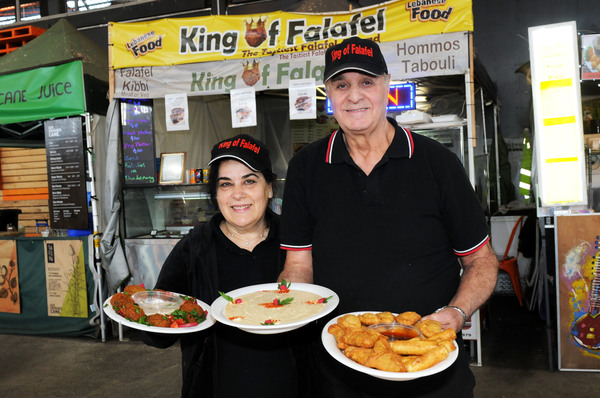 By Cam Lucadou-Wells
This week's column was supposedly all about tasting some fine, creamy hummus on the eve of International Hummus Day.
But what King of Falafel stallholders Sam and Elham Jurdi provided was hummus and a rich feast for Dine Local as well as a cavalcade of regular customers.
Spread over a table in the Dandenong Market food court were large plates of fresh and hand-made falafel, tabouli, sambousek pastries, lamb kibbi and vegetarian kibbi – and a square metre of hummus.
We ate like kings.
Steeped in a daily routine of mass Lebanese cooking, husband and wife Sam and Elham are hands-on experts.
What they serve at the market, they also cook banquets of up to 20 family and friends at home.
Each of the falafels are prepared by Sam each day, the pastries, salads, kibbis and dips by Elham.
The falafel is a simple gluten-free mix of crushed broad beans, chick peas and spices. It's lightly fried to create a combination of soft interior and a crunchy crust.
Elham prepares up to 20 batches of tabouli on market day. It's a staple side-dish for every offering.
The secret to her refreshing, popular salad is heaping on the flat-leaf parsley greens but going light on the bulgar wheat.
The sambouseks with hand-made pastries range from lamb, vegetarian and all-cheese varieties. The two-cheese filling is a highlight – a creamy mix of ricotta and Bulgarian sheep fetta.
The couple are testament that you can't get sick of good food. Both devour a hearty falafel wrap every lunchtime.
The couple were born in Lebanon. They say they met while Sam holidayed at his brother's house in Lebanon, and married in Australia.
Family figures highly for them.
Sam had run a men's clothing shop in Venezuela, South America until the country was beset by civil war.
In the late 1970s, he moved to Australia to support his bereaved sister, whose husband had passed away.
Fifteen years ago, Elham and Sam moved to Melbourne, so one of their children could study a forensics-law double-degree.
As the feast gets greedily devoured, Sam, 72, tells Dine Local that he loves to cook and work – he's done so since he was 14.
He'd briefly retired after four decades as a chef in Adelaide and St Kilda. But boredom stirred the couple back into business, setting up the King of Falafel stall four years ago.
Retirement is not in his thoughts, he says.