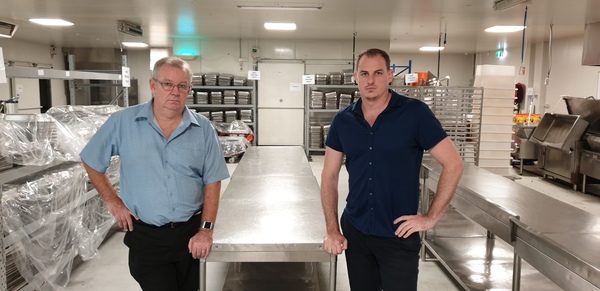 By Cam Lucadou-Wells
A City of Greater Dandenong health inspector has explosively claimed she was pressured by council management to fabricate evidence against a Dandenong South commercial caterer.
Kim Rogerson, an inspector at the council for seven years, has filed an affidavit of her claims to the state's anti-corruption watchdog Independent Broad-based Anti-corruption Commission (IBAC).
Ms Rogerson 'blew the whistle' as the caterer iCook Foods is demanding $26 million compensation from the Department of Health and Human Services for its ruined business.
The company claims it was wrongfully blamed for a fatal listeria case and shut down by the Department of Health and Human Services (DHHS) for 35 days in February.
"It really infuriated me because I knew this company didn't deserve it," Ms Rogerson said.
"I just couldn't stand by. It's just horrible that they've decimated this multi-million-dollar company for no real reason.
"It's not how we normally operate."
Greater Dandenong Council states that it doesn't believe Ms Rogerson's claims are true but is taking them "extremely seriously".
"Council has reported the matter to IBAC in accordance with its mandatory notification requirements and looks forward to an independent and external investigation," a council spokesperson said.
The council didn't detail the timing of its reporting to IBAC, whether it was before or after Ms Rogerson lodged her complaint.
Ms Rogerson had taken samples from the iCook Foods factory in early February after the death of an elderly patient at a private hospital.
On 21 February, the department ordered the factory's shutdown, citing a strong link between iCook food samples and the patient's listeriosis via "genomic sequencing".
In March, Ms Rogerson says she was ordered by the council to file a report on her visit to the factory.
She says she was "harassed" by council managers to inflate her two-page report to 11 pages, which she refused to sign off on.
The last straw for her was a "blatantly incorrect" passage which she says was added to the end of her report. It stated that she'd verbally warned the iCook Foods general manager that the factory didn't comply with food standards.
"That didn't take place. We didn't have that conversation," Ms Rogerson said.
"I was so disgusted I just deleted it.
Meanwhile, the family-run caterer iCook Foods insists the scientific tests clear the factory of blame.
A major supplier of Meals on Wheels, aged car homes and hospitals, every one of its contracts has been severed, director Ian Cook said.
It has ruined the 35-year-old business, with a $6-million-plus turnover, and put 41 staff out of work.
"We didn't do anything wrong," Mr Cook said.