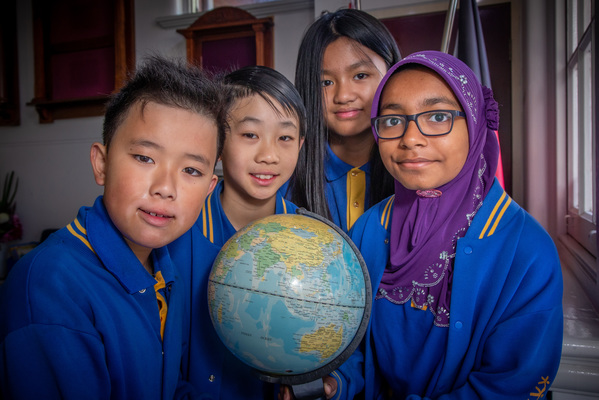 By Cam Lucadou-Wells
The first steps to building friendships between students in Greater Dandenong and China have been cemented.
On 29 May, Springvale Rise Primary School took hold of a spectacular scroll of calligraphy created by students from Quiang Quiang Street School in the city of Xuzhou.
It was presented by Greater Dandenong mayor Roz Blades, who set up the exchange with schools during a council trip to China earlier in the month.
As part of the same effort, Chandler Park Primary School has struck up an exchange with No 134 Primary School in Xuzhou.
"These kids might never get on a plane and go to China but now they've got friends over there," Cr Blades said.
During her Chinese visit, Cr Blades found great enthusiasm from politicians and schools, especially about Greater Dandenong schools' multiculturalism.
"It's because it's about schools and kids. The kids bring everyone together."
At one school, she was greeted with an elaborate welcome ceremony including a costumed opera performance by students.
Introductory letters, photos and contact details between the schools have been warmly swapped, with a view to email and video conferencing between students.
It was a step towards Springvale Rise Primary School looking internationally, Cr Sean O'Reilly said.
"The school believes this sister school relationship will help students in their future careers as Chinese is seen to be one of the key parts of the Asian century.
"We can visualise many of the students will be working in jobs that will require them to have a really good understanding of Chinese culture and business practices."
Springvale Rise principal Debbie Cottier said one of the school's values was embracing diversity of culture, religion and thinking.
"When we talked about this with our kids, they were absolutely excited. The staff were equally so."
Several staff and students already speak Mandarin and Cantonese, which should help speed up the translation process.
Springvale Rise is also starting to enrol international students from China.