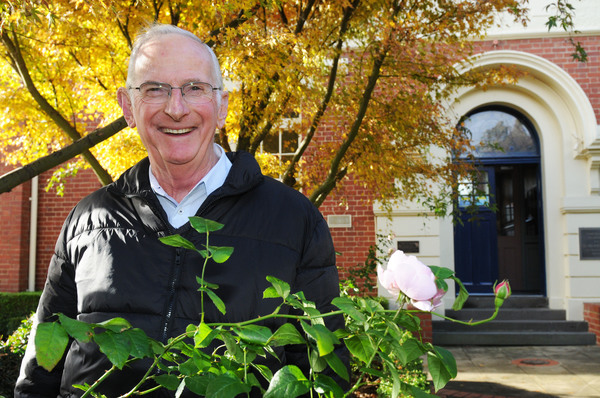 By Cam Lucadou-Wells
One of Alan Collier's countless enduring deeds has been leading the charge for a state-of-the-art Dandenong High School.
With the 100-year-old school's long course of modernisation near completion, Mr Collier has been awarded an Order of Australia Medal in the 2019 Queen's Birthday Honour list.
He joins three others in our region recognised on the list – Alf Goldburg of Dandenong, Roger Lord of Endeavour Hills and George Raphael of Keysborough.
Mr Collier has been president of the Dandenong High School Council for 24 years. In that time, he strongly pushed for the merger of three high schools to create a world-class facility.
"The young people in Greater Dandenong have the right to the same sort of facilities as in the city.
"Now we just want to see it finished."
Recently, the State Government committed $8.5 million towards completing new STEM, canteen and food technology facilities at the school.
He's been part of a long list of community groups, such as being founder of the former Dandenong North Youth Club, created in the 1980's to provide sports and activities for 800 youth a week.
"It was run by the community for the community," he said.
He has also been an active Rotarian for the past 25 years.
Now the president of the Dandenong Agricultural and Pastoral Society, he has been part of organising Dandenong Show for the past 20 years.
The former timber sales and marketing manager certainly has a lot on his plate in retirement. But as Mr Collier says: "If you want to do something then you make time to do it."
He and wife Vicki have lived in Dandenong all their married lives, and both active community servants.
"You've got no idea what you get out of the community by doing community work.
"I've met terrific people in the community all the time."
A common thread in Mr Collier's endeavours is helping youth. He believes young people's future shouldn't be decided by their upbringing or socio-economic disadvantage.
"I'm really humbled by it," Mr Collier said of his OAM award.
"I never did any of it for any recognition. It's one of my beliefs that you have to give back to the community.
"I think you've got to make the world a bit better by the time you leave it."
• More on the Queen's Birthday Honours List, turn to pages 4 and 5.