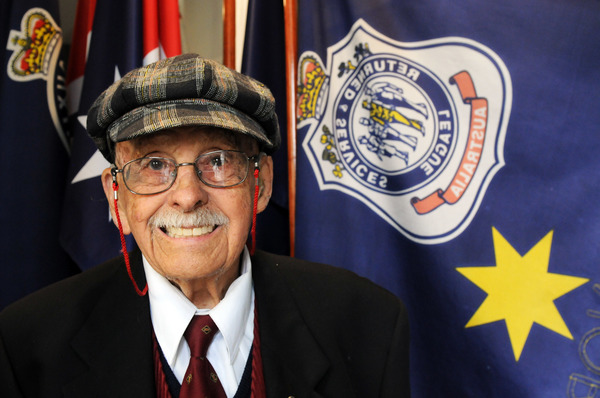 By Cam Lucadou-Wells
At 92, Alf Goldburg is bright, talkative and devoted to walking to the shops to pick up his daily newspaper.
Awarded an Order of Australia Medal in this year's Queen's Birthday honours list, the Dandenong grandfather also continues to serve.
The former footwear sales manager and loyal ALP volunteer remains active in Noble Park RSL sub-branch as a committee member and Anzac Day and Remembrance Day token seller.
He also brings in newspapers for the Dandenong and District Historical Society archives each week, and visits needy families as a Springvale Benevolent Society charity volunteer.
"You've got to keep doing things – use it or lose it," Mr Goldburg said.
He also brings copies of the Dandenong Star Journal in for an elderly neighbour after deliveries to her home had ceased. They enjoy a weekly cup of tea together with each other.
It's important to keep a look-out for elderly neighbours, many living on their own, he says.
He also puts some food aside for nearby families that he knows are struggling.
As well as reading The Age every day, Mr Goldburg keeps an ear on Vision Australia Radio – which reads out stories from newspapers of the day.
He tells of a recent article on the plight of a homeless man in Melbourne he read. "It's always worth reading these things.
"You think that's life but you've got to do the right thing and help people.
"I don't want people to go without."
Growing up in Sydney, Mr Goldburg's family's struggles must have been formative.
His father was a returned World War I veteran, who later served in World War II. Yet Mr Goldburg's younger sisters and brother being put in a home because his family couldn't afford to rear them.
Understandably, Mr Goldburg admires and has helped with the vital welfare work performed at Noble Park RSL.
He and wife Audrey have been a fixture at their Heatherton Road home in Dandenong for more than 60 years.
When he first moved in, he and his wife Audrey's home was surrounded by paddocks. They kept Bantam chooks.
He's welcomed his neighbourhood opening up to scores of new nationalities.
"They're all human beings. I don't care who comes here to live, as long as you abide by our law."
He has also served several bedrock groups that have since closed, such as the former charity Dandenong Benevolent Society.
He volunteered in the long-standing Noble Park Drug Action Community Forum, as well as its successor the recently-closed Noble Park Community Action Forum.
Those groups collectively served Noble Park for more than three decades.