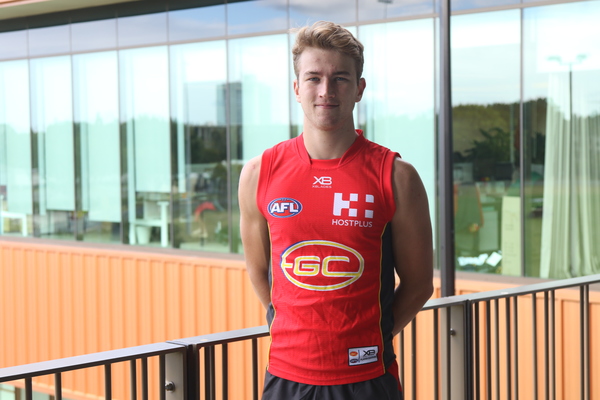 By Nick Creely
Whether it's 2000 kilometres away from home in the midst of training at Metricon Stadium or bursting through the stoppages at Shepley Oval, Mitch Riordan is in his element at the elite level.
The new Gold Coast Sun has done it the hard way, with injuries – and self-doubt – cruelling his draft year in 2018, but he didn't give up. He's truly a story of perseverance in the face of adversity.
A Beaconsfield-boy, Riordan's dream came to fruition in the AFL's 2019 Mid-Season Draft, held on 27 May after Round 10 of the AFL season, with the midfielder's name called out by the Suns, a moment he will savour forever in a journey that has had plenty of ups and downs.
This journey is now beginning, and while he wants to make his mark at the highest level, understands he has a long-road ahead of him as he looks to acclimatise himself to his new surroundings.
"Every day is kind of getting better, I'm starting to settle in and get familiar with how everything works – the last week was kind of tough, everything was going so fast and it was hard to stop and just settle down, but it's been really good," he said.
"The thing up here is to just ask questions, so I've been really open with everyone, and that's made it a lot easier – I've been able to communicate and when I have questions, they're really accommodating with the answers.
"That's been the biggest thing – I've been able to get out of my comfort zone a little bit, but you have to show a little bit and ask questions, and they'll help you out with the rest."
Riordan said that the draft night was a bit of a "blur", with the excitement revibrating in his family, and admitted he had absolutely no idea where, or if he'd end up anywhere.
"I didn't know anything until the night, so it made it a bit worse – you never know, but I did get some interest, however you never really know," he said.
"Everyone from the family couldn't control their emotions, it was a good time – Dad was really proud, and apparently wore his Gold Coast hat to training, and they all knew it was a goal of mine, so it was really cool."
Another fond of memory of Riordan's was a call from Gold Coast coach Stuart Dew shortly after officially joining the club, with the youngster saying he has made an instant impact on him since moving north.
"He called me draft night and I was a bit all over the joint," he said.
"He's so supportive, and really positive about what we do well, and he mostly focuses on the positives, and as long as the effort is there, he's really happy.
"He's been a positive role-model for everyone at the club – all of it's been really positive so far."
It was only a matter of weeks ago that Riordan lined up for the Stingrays as a top-ager after being a strong contributor in the 2018 premiership glory in the TAC Cup. But, life has changed in an instant; he's now a fully-fledged AFL player who has found another footballing family.
"When I first came (to the Suns) I didn't kind of believe it all, but the first thing that stuck out to me was having my name on a locker, all this free gear and the training, and everyone is just really nice and accommodating, and asking all these questions," he said.
"Everything changes, the routine you have back home with under-18 football is nothing like up here.
"It's great that everyone cares, it's like you're being brought into the family – it's been an awesome experience so far."
Riordan is living with fellow recruits Corey Ellis and Sam Collins in Mermaid Beach, and also has familiar faces in former school mate Ben King and Dandenong Stingray Sam Fletcher to lean on, something that has made the transition into AFL life a lot easier.
"It's been easier than what I expected, they tell you things that not everyone can," he said.
"They've been helpful, and from the friendships they've formed, I've been able to tag along, and I'll get to know more people along the way."
While his serious hamstring injury last year put a dent in his draft hopes – and a dream he's had his whole footballing life – Riordan was able to get past his self-doubt, one that made him question whether he wanted to keep pushing after at one stage being viewed as a first or second-round draft selection, with the help of those closest around him.
"I have to owe that to those around me, my family, coaches, and stuff like that," he said.
"Last year was really tough with the injury, and there were times where I thought whether it was for me, and they were all just really supportive.
"I think having a proper break from footy and just re-setting really helped me, and it helped me attack 2019.
"My family's been massive for me, and it's made it a lot easier in rehab knowing I'm not alone – they've been paramount for me."
Riordan also owes a lot to two clubs that have helped him to succeed, the Dandenong Stingrays and the Beaconsfield Football Club, who have played an integral part in shaping him as not only a footballer, but a human being.
"I've been there for a while (at the Stingrays), and they just set up to succeed," he said.
"It's a really, really good program and Flano (Darren Flanigan) coming in this year and as a 19-year-old made it a lot easier, and Coxy (Nick Cox) has also been massive for me with his honesty, and the whole group, it's a special place, and I'll certainly miss it.
"And as a junior (at Beaconsfield), you play with your mates, and footy became really competitive around 14, 15 and I have made mates for life in junior footy.
"There's a tight-knit group of boys that I still hang out with (at Beaconsfield), and to share those memories with them is what you play for."
With time now on his side and an adventure in a new environment, Riordan is just looking forward to building his reputations in a club that he believes has an extremely bright future.
"You can see that in the meetings, we've had losses but we've been in most games, so everyone is focusing on performing for four quarters," he said.
"It's really exciting, and there's been a huge culture shift, and it's a really honest place.
"For me, I'm taking it week by week, learning some really good habits, and hopefully I become a consistent player in the NEAFL – it's a completely different type of footy, so getting all the feedback will be paramount.
"I'm trying to soak it all up, and learn as much as I can."