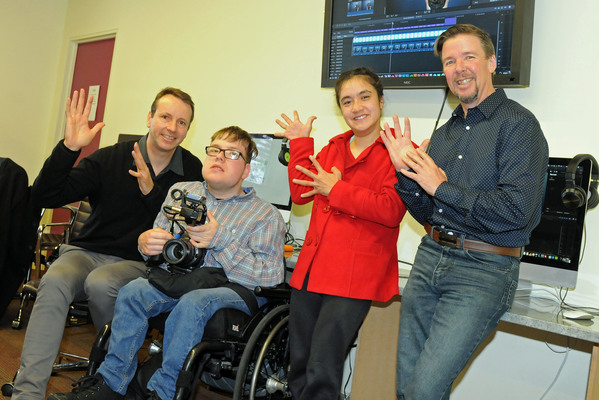 -
Wallara Australia's TV school has helped create a pioneering Auslan learning resource on a USB stick.
The Wallara TV School of Media teamed with The Auslan Company to launch the accessible sign-language resources in Dandenong on 3 June.
USB kits for babies and their families, child care centres and beginners have been created, as well as one for a general audience.
The Wallara TV School of Media trains people of different abilities to produce videos and use social media to promote inclusion.
As part of the project, its three students worked on 50 training videos, recording 850 Auslan signs.
Each sign was repeated twice – once slowly and the second time in actual speed with expression.
Wallara TV student Ben van Raay said he enjoyed and learnt a lot from the project.
"I love the fact that this resource will empower people to be more inclusive."
Bella Firth, also of Wallara TV, helped design the titles and templates that were compatible with The Auslan Company branding.
The Auslan Company was founded 15 years ago by Darren Roberts, a deaf man who uses Auslan to communicate.
"Never before has there been a unique Auslan learning resource on a USB in Australia," Mr Roberts said.
It made learning possible on TVs, computers and other devices at home, work or abroad.
"You can take your time watching and learning, repeat the process until you can sign all the signs naturally without thinking," Mr Roberts said.
"Now, there's no excuse for anyone in remote and rural Australia and in the cities not to learn Auslan."