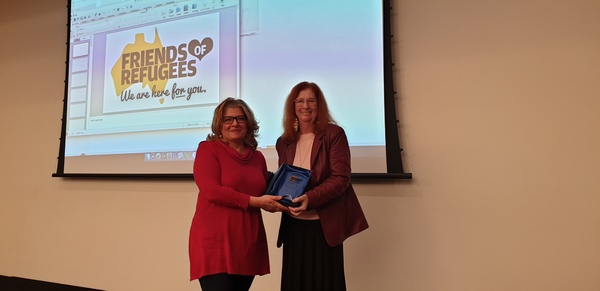 By Cam Lucadou-Wells
Role-model refugees who are helping others were celebrated in an uplifting award ceremony at Springvale Town Hall.
At the Friends of Refugees charity's recognition awards on 20 June, Jeffah Thabach was crowned Refugee Champion.
Mr Thabach was described as a tireless worker for "changing the narrative" on young people from African backgrounds.
He volunteers for Victoria Police, Cardinia Shire and advocacy groups, leading positive programs to keep young people in school and finding work.
The South Sudanese refugee, who spent a long period in a Kenyan refugee camp, also hosts public barbecues and dances for families and young people.
His described aim was to help people from African backgrounds to resettle, be proud of their culture and to be positive role models for their peers.
Other winners included Monash Health volunteer and All Nations Social Cricket committee member Hasnain Ali who received the Youth Achievement Award.
Asylum Seeker Resource Centre volunteer Maha Albarezi and Rohingyan womens advocate Amina Khatun were awarded Community Service trophies.
Marzia Rohani, an advocate for young Hazara women, was given the Success and Integration Award. A former captain of Victoria's Afghan girls soccer side, Ms Rohani is studying a Master's degree in architecture.
The night's keynote speaker was prominent human-rights barrister Julian Burnside, who argued for more lenient treatment of asylum seekers.
Mr Burnside said that, despite the Federal Government's attacks, seeking asylum was not illegal.
He pointed out the $5000 million annual expense of off-shore detention of asylum seekers in Manus Island and Nauru.
Even if at its height, 25,000 boat arrivals were allowed to land and resettle in Australia with full Centrelink and Medicare benefits each year – the $500 million cost was much smaller, Mr Burnside argued.
Other award presenters included Greater Dandenong mayor Roz Blades, who said the council would continue its fight against the removal of Status Resolution Support Services income for asylum seekers.
She is set to meet with ALP's home affairs spokesperson Senator Kristina Keneally to discuss the cuts on Tuesday 25 June.
Thirty councils, including Greater Dandenong, were on board the Back Your Neighbour campaign against the cuts, Cr Blades said.
She also paid tribute to the Springvale-based Friends of Refugees and its founder Sri Samy's work, including giving away 250 kilograms of food a week to asylum seekers and refugees.
"I'm not sure if we're all aware of the sacrifices that (Sri Samy) and her family have made."
Cr Blades said the charity had suffered from cuts from a Federal Government that was "not compassionate to people who do not have very much".
Other guests included councilors Youhorn Chea, Matthew Kirwan and Sean O'Reilly – who vocally supported the council's recent motion to donate $61,200 of surplus council funds to Friends of Refugees.