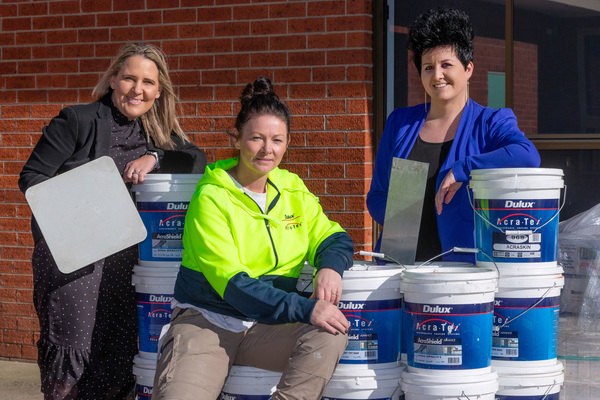 By Cam Lucadou-Wells
A million-dollar-plus act of generosity from local businesses has helped restore a Springvale community centre to its former glory.
Croatian Catholic Centre members had decided to resurrect the sadly rundown building, showing all 40 years of age.
Their cultural home lacked the basics of heating and cooling, or even a functioning stove, oven and dishwasher. Its toilets, floors and lights groaned with 40 years of age.
Amazingly, thirteen local businesses dug deep.
Between them, their donated work and materials has delivered a project worth $1.5 million, says centre spokesperson Natalie Klafuric.
It includes $450,000 contributed equally by the State Government and the centre to update the bathrooms, kitchen, heating and cooling, flooring and lights.
"Originally it started as a small project," Ms Klafuric said.
"With all these businesses help, we have been able to not only renovate inside but give a cosmetic lift to the outside.
"Our small hall is now an up-to-date modern building."
Dulux Australia alone has donated labour, vinyl plaster materials as well as rendering for the entire cream-and-red brick building – a generous act worth about $350,000, Ms Klafuric said.
Boral Plaster, WK Quantum Quartz, The Benchtop Factory, Time Plumbing, Stilcon, Mitre 10 Chelsea, G & P Electrical, Citywide Brick & Block and Clipsal Australia all provided free materials, installation or labour.
Beaumont Tiles and Carpet Call also offered heavily-discounted materials.
"It made me feel as though there are so many good people out there," Ms Klafuric said.
"People are happy to give you a hand if you're trying to achieve something."
The centre is home to hundreds.
It hosts dance nights, movies, folklore groups, billiards, lawn bowls, family picnics, seniors aerobics and lunches, Croatian language class, a prayer group and a womens group.
Ms Klafuric said the group was seeking help to build a childrens playground.
"Our goal is to make this place feel like home again for many Croatians and Australians with Croatian heritage."