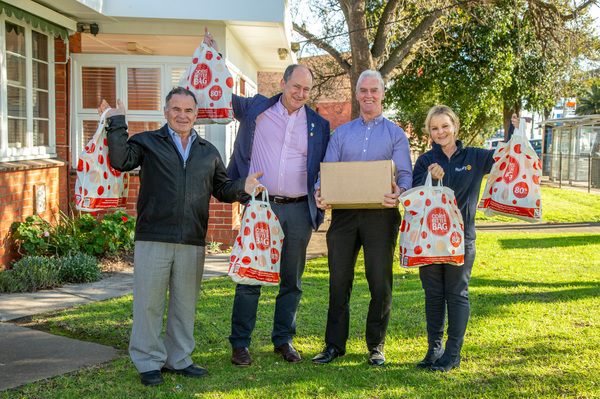 By Cam Lucadou-Wells
Greater Dandenong's community have moved fast and dug deep to help our overwhelmed charities.
It's been two weeks since Star News reported on mayor Roz Blades's public appeal for urgent donations to relieve the winter homeless and foodless crisis.
In that time, Springvale Benevolent Society – whose food stocks had run low – has been deluged with boxes of food.
"The phones stated ringing as soon as the story hit Facebook," president Joe Rechichi said.
"I'd like to give a big thank you to all those who contributed to it."
Among the donors was Rotary Club of Greater Dandenong, which presented $2000 as well as a load of groceries.
Bowens Hardware, which recently gave 50 blankets in June, presented a further $544 from a staff collection.
Individuals have given personal donations of up to $500, the Servants of Two Hearts rolled up with a load of food.
An 89-year-old man rang to say he never forgot how Mr Rechichi and the benevolent society helped his daughter 25 years ago. Repaying the good will, he gave out a load of groceries.
The donations have been swiftly converted into urgently-needed food parcels.
The aim is for blankets to keep people warm on the outside, food to keep them warm on the inside, Mr Rechichi says.
He tells of a woman who had recently been released from jail was sleeping on the floor of an empty flat.
The benevolent society whipped together two second-hand mattresses, linen, pillows, utensils and food.
Days later, it dropped off a just-donated bar fridge.
"You couldn't wipe the smiles off their faces."
Mayor Roz Blades praised Greater Dandenong's "generous and warm" community.
"I'm just glad to live in such a community."
She said the need for food relief was still ongoing, with many enduring a daily struggle
Meanwhile, another charity Jesuran Wellness Centre was recently given a $1000 lifeline from Club Noble.
"We were at the point of nearly running out of funds," spokesperson Rabi Gunaratnam said.
"This will keep us going until September-October."
The JWC is providing food relief to about 70 families, some with up to six children. Many of those are refugees and asylum seekers.
It also provides English language tuition, computer skills training and job assistance.
Like the benevolent society, the volunteer-run JWC does not receive government funding. Which means it relies solely on donations.
It also welcomes volunteers and donations. To help, go to 60 Douglas Street Noble Park or call 0407 125 649.