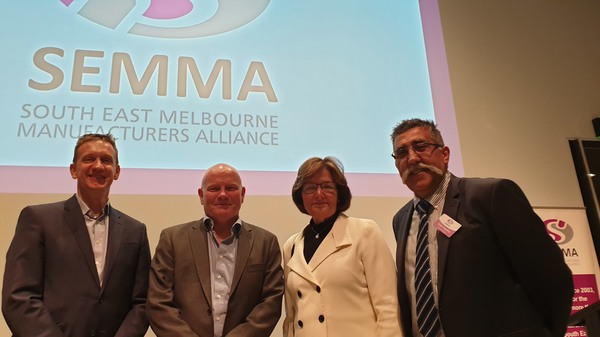 By Cam Lucadou-Wells
There's a changing of the guard at the peak body for South East manufacturers.
Vonda Fenwick was announced as the incoming executive officer of South East Melbourne Manufacturers Alliance (SEMMA) at its AGM at the Australian Synchrotron on 27 August.
A founding SEMMA board member with 30 years in manufacturing, Ms Fenwick starts her tenure on 3 September.
Her successor of six years Adrian Boden told the meeting that SEMMA had ongoing concerns about local content levels in major government projects and the absence of a national energy solution.
But he pointed to continuing healthy signs.
Manufacturing was in the top 3 job growth sectors, with 40,000 extra jobs according to 2017-18 ABS Trend figures.
"The continuing investment of both State and Federal governments in infrastructure can only be a good thing," Mr Boden said.
"The challenge is to introduce manufacturing as a serious job opportunity at the earliest possible age and to … reinforce the opportunity through the educational cycles."
Mr Boden said delays on the High-Capacity Metro Trains showed the need for greater oversight over major projects.
"As we indicated (in 2016-17) we have major doubts on the local content claims for HCMT.
"The steel issues with the (West Gate Tunnel) project are another example of how local content is not being achieved."
His one disappointment was the "increasingly focalised" political landscape.
"Collaboration is absolutely critical and we need our Governments and Opposition to demonstrate their willingness to do so."
In other AGM developments, Peter Angelico replaces Greg Northrop as SEMMA president.
"One of the biggest issues that keeps manufacturers awake at night is the cost of energy," Mr Angelico said.
"The ball has been well and truly dropped when it comes to energy and the volatility and uncertainty is having a detrimental effect on many of our members.
"What was once a competitive advantage for manufacturing in Victoria has now become a disadvantage."