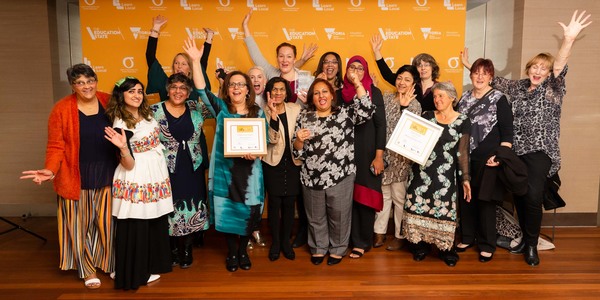 By Danielle Kutchel
The work of Dandenong's Wellsprings for Women has been recognised by the State Government at the recent Learn Local Awards.
The organisation's Creative Enterprising Women program (CEWP) picked up the Pre-accredited Pathway Program Award, and Chithrika Senanayake, a learner at Wellsprings, received with the Ro Allen Award, which recognises Pre-accredited Learner Excellence.
Wellsprings itself was named the Learn Local Legend for the southern metropolitan region, for its work in improving the participation rate of isolated and vulnerable women in training, and the Child Minding Champions team was also a finalist in the Volunteer Team Award.
The Child Minding Champions are a group of volunteers who have been trained specifically to look after children while their mothers attend Wellsprings to learn.
Chief Executive Officer of Wellsprings, Dalal Smiley, said the Child Minding Champions had made a big difference to Wellsprings' programs.
"Lots of women have previously been unable to go and attend classes and be involved in their community because they can't afford childcare or don't have access to it, or they have a few kids so it's costly to do it," she said.
In fact, all of Wellsprings' programs are aimed at empowering women and providing them with skills to grow their confidence and independence in a safe, respectful and caring space.
CEWP is designed for women with low level English skills, low educational backgrounds or who have faced barriers to accessing employment in Australia. The program starts with a skills audit of the women to determine what skills they have and how they can use those to become self-employed or own their own microbusiness.
Over the course of around 18 months, the organisation works with participants to build their self-belief and business skills through a range of courses covering things like public speaking, financial literacy and computer studies.
Participants move through at their own pace and are fully supported on the path to independence, no matter how long it takes.
Ms Senanayake was a participant in the program and through CEWP was able to have her reflexology qualification recognised. She has since laid the foundations for her business as a mobile reflexology practitioners and also volunteers as an emergency tutor at Wellsprings.
"She's over the moon, it's given her a lot of confidence," Ms Smiley explains.
"She's very active, eager to learn new things, and very driven – that's because she's been supported and encouraged along the way."
The program has received additional funding to continue.
Ms Smiley said the Learn Local awards are a "validation" of what Wellsprings does.
"We don't enter these awards every year, we really only do it when we feel we have something valuable to show.
"This now gives us a big boost really; the awards are like a stamp of recognition."