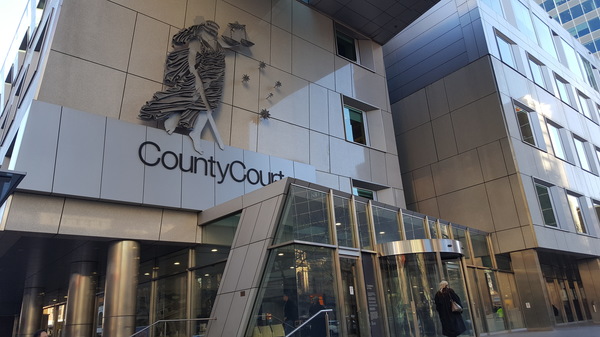 By Cam Lucadou-Wells
An armed robber has lost a thong and a sandal during a one-day crime spree including crashing a stolen car in a police pursuit in Cranbourne North, a court has been told.
Agoc Deng Shok, 24, of Dandenong North, pleaded guilty to charges including armed robbery and attempted aggravated burglary during the "frightening" episodes on 7 January 2018.
Deng Shok, in a hooded jumper with a towel covering his face, ran inside a 7-11 servo and pointed an imitation handgun at the attendant about 1.20pm.
Several customers who were in line, as well as others in the shop, screamed and fled as Deng Shok threatened to shoot the worker.
He stole $600 from the till, and escaped in a stolen Mercedes Benz.
Witnesses described the gun as "very realistic", akin to a police-issue handgun.
"I have little doubt that they believed the gun was real and were terrified as a result," County Court of Victoria judge Meryl Sexton said in sentencing on 9 September.
Ten minutes after the hold-up, police with activated lights and sirens pursued the unlicensed driver.
He sped away up to about 95 km/h in a 60 km/h zone, crashing into two idling cars at a red light as he tried to drive between them.
The Mercedes continued through the red light despite losing a front wheel during the crash.
Police stopped to assist occupants in the struck cars. Deng Shok abandoned the car, losing one of his sandals as he ran through a retirement village.
In a "very calm" manner, he identified himself when approached by police at a nearby bus stop. He was then allowed to board the bus and escaped until his arrest three days later.
The cash had not been recovered, the court heard.
Earlier that morning, Deng Shok left behind a thong during an attempted aggravated burglary at Prince Mark Hotel in Doveton.
About 6.44am, Deng Shok knocked at the door of a unit then produced a gun and tried to force his way inside.
As two male occupants struggled to shut the door, he threatened to put a bullet in the head within five seconds.
Deng Shok counted down. The "terrified" residents sheltered in the bathroom and dialled triple-0.
He drove away in the Mercedes, in which he stole petrol from two servos in Lynbrook and Narre Warren South later that day.
After his arrest, Deng Shok initially denied any involvement. He later said he had been after bond money in a search for somewhere to live.
Judge Sexton noted Deng Shok's "significant and relevant" criminal history despite his young age, as well as him being on bail at the time.
The Sudanese refugee however also had a background of "trauma, disadvantage and dislocation".
His diagnosed PTSD stemmed from exposure to wartime carnage as a child in his homeland.
His teenage years were blighted by homelessness, binge drinking, self-harm and drug abuse.
Judge Sexton sentenced Deng Shok to jail with a "longer" parole period to promote his "guarded" rehabilitation prospects.
He needed to remain drug-free, as well as engage in mental health treatment to reduce his reoffending risk, she said.
Deng Shok was jailed for up to six years, eight months. He will be eligible for parole after three years, nine months – including his 582 days in pre-sentence remand.
He was disqualified from driving for 18 months.