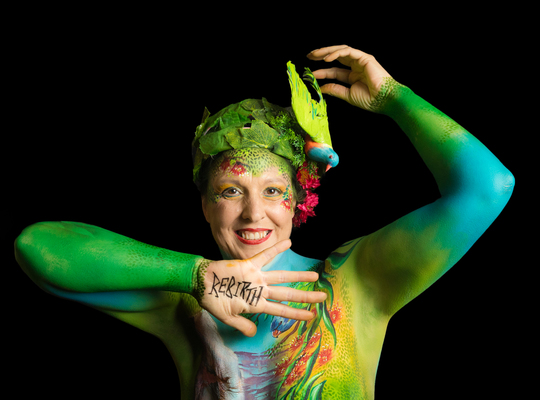 By Cam Lucadou-Wells
'Rebirth' is the word for 45-year-old cancer survivor Kathryn Pantorno.
Ravaged by years of treatment, a mastectomy and painful rehabilitation, an "embarrassed" Ms Pantorno had taken down her bathroom mirror.
Then she was artistically transformed. Her vibrant chrysalis produced by a body-paint artist is there for all to see – in a calendar of women cancer survivors for charity So Brave.
During the photo shoot, her body was coated with a rainbow of colours, flowers and parrots. 'Rebirth' is scrawled in the palm of her hand.
"I don't think the smile came off my face," she said of the results.
"I didn't care who was looking. I wanted people to look.
"My body was a canvas of art."
The 2020 calendar launch on 14 September was a "real tear-jerker," Ms Pantorno said. It's been the highlight of her cancer survival.
"All I hoped for was that you could see how happy I was on the day (of the photo shoot). And you definitely can.
"All the 12 girls (who modeled for the calendar) were teary, proud and beautiful. They were beaming."
In the process, she met 11 other models who were diagnosed under 40 and trod the same lonely, harrowing path.
In 2011, Ms Pantorno – who worked at a Dandneong North pharmaceutical – arrived at that junction at 37 with the discovery of a six-centimetre breast tumour.
Desperate to have a child, she delayed treatment for IVF. In the meantime the estrogen drugs, as part of IVF, fed the tumour to eight centimetres. It needed to be reduced to one centimetre for its removal.
Ultimately the chemo took over and ruined her chances of motherhood.
The cancer spread to two lymph nodes, so treatment was aggressive. Eight chemo sessions, 35 radiation treatments, two blood transfusions and a mastectomy.
In chemo, her fingernails, toenails, eyebrows and hair fell out. Radiation seared her with third-degree burns. Tears constantly welled in her right eye.
"I could see how much it was hurting my family so much to see how much it was hurting me.
"Around chemo number 7, they nearly had to carry me to the car because I could barely walk at that point."
She drank vegetable juices, shunned sugars and exercised in the gym when she could.
She fought on.
But the challenges continued even after remission.
During her reconstruction, there were failed breast implants – one of which excruciatingly tore through her skin.
The skin had been so stretched, Ms Pantorno endured agonizing months of being unable to lift her arm. Having battled to stay at work during chemo, she finally had to take a year off.
When one of the implants was removed, she spent a month in hospital on a vacuum pump to help heal the eight-centimetre skin wound.
It didn't work, so a painful skin graft was taken from her leg.
There was an idea to recreate a breast from her abdominal area. But Ms Pantorno had enough of surgery and settled for a prosthesis.
"I could finally lift my arm and put my clothes on the line."
The suffering has made her stronger, determined and more independent, she says. But it has also taken a lot away.
"You do have a different outlook in life. A lot of friends left me, even my partner – they couldn't handle it.
"I have different friends now – different ladies at work who helped me go through it every day.
"You realise who your friends are, as well as my family who helped me through.
"In the end, it does break you. It changes you."
Some people's eyes "open up" when she tells them she has one breast.
"Now instead of telling everyone, I'll get the calendar and poster and pin it up on the wall.
"It shows that it doesn't matter how you look. You can still look beautiful."
With no family history of breast cancer, Ms Pantorno says other young women need to be vigilant.
She still gets three-monthly check-ups, takes estrogen-blocker tablets and suffers osteo-arthritis as a chemo side-effect.
"That's the side-effects that people don't realise. It continues forever."
The So Brave calendar helps fund support programs for young women with cancer, breast cancer awareness programs and medical research.
Breast cancer is the most commonly diagnosed cancer in women under 40. Nearly 1000 are expected to be diagnosed in 2020.
To buy a So Brave 2020 calendar, go to sobrave.com.au